<! col one starts>
<! col one ends> <!spacer>
<! col two starts>



BookThink is the #1 ranked resource provider for online and open shop book dealers, book collectors, and serious readers. Resources include:
The BookThinker, a free twice monthly newsletter covering a wide range of bookselling and collecting topics.
BookThink's Gold Edition, a monthly newsletter supplying profit-generating insider information to booksellers.
BookThink's Quarterly Market Report of Common, Profitable Books, a market report targeting high-profit, in-demand books that are likely to surface on scouting trips.
Moderated book forums; an extensive library of active and pertinent book-related links; book reviews; interviews with authors and other notables; and intensive tutorials on practical book repair, grading, terminology, buying for resale, selling books online and off, building a personal book collection, and more.
The BookThinker Newsletter


ISSN 1547-9501

#80, 23 October 2006
BookThink Update
30 October 2006>>>

Children's Picturebook Price Guide
A BookThink Review
In my never-ending quest to locate the best and brightest reference books for booksellers, I've found one that will be of special interest to children's books collectors and booksellers - Linda and Stan Zielinski's Children's Picturebook Price Guide. What initially piqued my interest about this book was that it contained issue points for Dr. Seuss first editions. However, flashpoints abound as well, and for once they don't have to be coaxed out of pages and pages of dull price listings; they're actually presented in ready-to-use lists. Find out why this book impressed me, and, if you have $15 or $20 to spare, buy it.
The Long White Mystery
Deep in the Woods - and Nearly Lost - with Clara Dean Marshall
As most of you know by now, our primary purpose at BookThink is to shine a light on authors and, in turn, books that will most likely produce profit for booksellers. To this end, today's BookThinker features an author that many of you may have never heard of - (Clara) Dean Marshall. Marshall wrote only six books in her career, most of them during the 1940s, though she lived fully 43 years after the 1951 publication of her last book, Wish on the Moon. Make no mistake; Marshall is a bookselling phenomenon. Collectors will often pay $100 and up for the pleasure of owning one of her books, and this despite the fact that some of her titles were published in significant numbers. Intense demand, it seems, has created scarcity in the marketplace. To date, not one of her books have been reprinted. Read more here.
The Long White Month
A Personal Retrospective
The Long White Month holds a special place in the heart of BookThink's Associate Editor Pamela Palmer. Her retrospective explains why - and yes, that really is the youthful Ms Palmer, pogo stick in hand, in the accompanying photograph.

50/50 Issue #17
Vintage Fashion
Now Available
Issue #17 of 50/50 is now available for purchase; its focus is "Vintage Fashion." Subscribe today here.
Introducing .... BookHunt
Software Designed for
Buying Inventory Online
The bookselling theme we pound the hardest at BookThink is this: Sell better books. Agreed, some of you don't live in inventory rich areas, and this may be easier said than done. One solution I've suggested is to start buying some of your inventory online. After all, where are most of the best books located? For most booksellers, however, especially those new to the business, buying online is significantly more difficult than buying books in the field. Or was until now. Software developer Ian Ashbury has come to the rescue. Ian has designed a tool for BookThink that will greatly enhance your ability to not only locate inventory online but also save you countless hours you otherwise would've spent slogging through listings at eBay. It's called BookHunt, and here's more information.
BookThink Consulting - Phase I
BookThink's eBay Critique
FAQ
NEW! Are your eBay auction presentations lacking that certain something? Are you frustrated with listing high quality items again and again and not getting top prices for them? If so, BookThink's new consulting service, eBay Critique, may be the answer. eBay Critique consists of two elements - one, a detailed analysis of your existing eBay auctions identifying specific problem areas; and two, suggestions for improvements. Primary areas of concern include image quality, presentation layout and textual content. Read our FAQ for more details and get started today.



Previous BookThinker update- BookThink Update
16 October 2006>>>


Top 10 on eBay
August 2006
BookThink's Top 10 on eBay is up first today - the best and brightest for August 2006. What's unusual about this list is that three auctions were "won" by buyers who are no longer registered users. At these price levels it can't be fun for sellers to think they've scored thousands on auctions only to discover that they've come up empty handed and must suffer the further inconvenience of recovering fees.
Bookseller's Profiles
Judy Lanskey
It seems that every time we publish one of BookThink's Bookseller Profiles one or two pieces of advice stand out in bold relief. Bookseller Judy Lanskey, who submitted today's profile, suggests buying at least part of your inventory online, and, while this doesn't in itself leap off the page, consider that Judy has been a bookseller for only 18 months. Booksellers new to the business, I've noticed, are often reluctant to embrace the strategy of online inventory acquisition, dismissing it too risky or requiring too much experience or knowledge or savvy - or something. The truth is that in many cases it can be a breakthrough factor in elevating a bookseller from part-time to full-time status, and many of the techniques for doing it are relatively easy to learn.




Alibris Announcement


Alibris announces the November launch Alibris UK and explains what will change and what wont'.
<! col two ends> <!spacer>
<! col. three begins>






<! col. three ends> <!spacer>
<! col. four begins>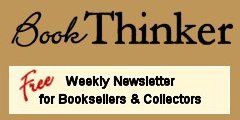 <! col. four ends>