<<< Continued from previous page
The long table in the spacious dining room once held breakfast for such notables as Jimmy Cagney, Dorothy Lamour, Errol Flynn, Fay Ray, and other notable stars. But these celebrities became regular people here, and perhaps that's why they liked it. A list of farm chores was placed by the plate of each guest in the morning. If they weren't interested in doing chores, they were welcome to book a room at a nearby hotel. Imagine driving up to the vegetable stand and finding Jimmy Cagney selling melons!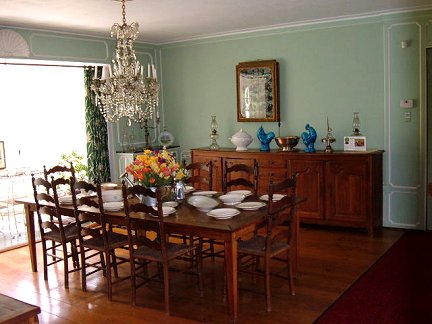 The centerpiece of Bromfield's library/office is a huge semi-circular desk constructed of local walnut and designed by the boss himself, with bookcases built into the front face. It is built in one piece and is so large that it had to be brought in while the house was being constructed. On the wall hangs his Pulitzer Prize for Fiction for the novel Early Autumn and also the O. Henry Prize awarded to him for the short story "The Scarlet" (McClure's Magazine, January 1927).
The spacious living room has French doors leading to a porch overlooking the valley. There are windows on each side of the fireplace, and the mirror above the fireplace reflects the windows from the opposite side of the room, so one can actually see out toward four corners of the property from one vantage point. The layout was carefully designed in this manner by Bromfield. A charming and lengthy poem written by E. B. White about Malabar Farm for The New Yorker (1948) is mounted on the wall in this room. Here there were often live bands playing at parties that would last all night long.
The house was designed by Bromfield and architect Louis Lameroux. It is a blend of Western Reserve architectural styles and is meant to look as if it had been added on to over the years, as was the case with most older farm homes. Tours of the home are offered year round for a very reasonable fee. Hay rides, bird walks, plays, barn dances and other activities also take place year round on the farm.
The original Bromfield home, just a short distance down the hill, is a 1919 Sears & Roebuck farmhouse which now operates as a 19-bed international youth hostel. The Bromfield family lived here before the construction of the "Big House." It opened as a hostel in 1976 and is operated through Hostelling International-USA, a non-profit organization devoted to outdoor recreation and world travel for people of all ages.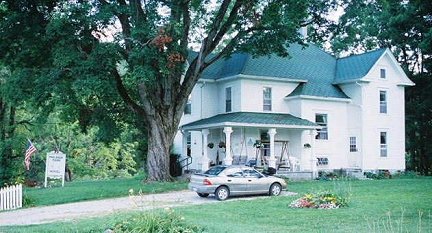 Nestled among towering trees is the old Pugh Cabin, an authentic rustic log home with two enormous native stone fireplaces. It was built in the 1940's by Louis Bromfield's friend and neighbor Jim Pugh and features two ornate chandeliers which once graced a Mansfield bank. The cabin overlooks the creek, and is available for rental (daytime use only) for such events as receptions and company retreats.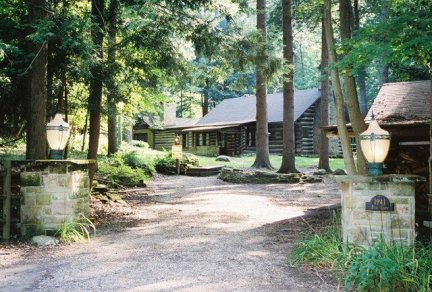 Ceely Rose's house still stands on the farm. This is the miller's house mentioned in Pleasant Valley where a young mentally-challenged girl named Ceely achieved folklore status in the 1800's when she murdered her mother, father and two brothers by mixing arsenic into their cottage cheese. She had felt they stood in the way of her hoped-for romance with a neighbor boy, who in reality only treated her with more kindness than others in the valley. There was an investigation, and ultimately an arrest and a trial. (This local history made excellent material, by the way, for one of Mark Jordan's plays).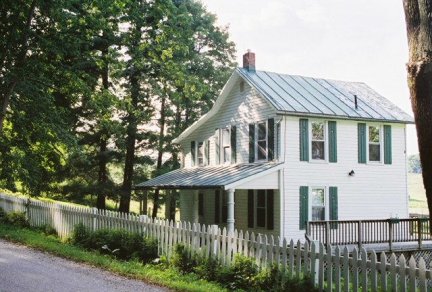 The vegetable stand is still located on Pleasant Valley Road, in front of the famous cold spring which comes out of the hillside and feeds water into stone troughs beneath the baskets of farm fresh produce, keeping them cool. All the produce is fresh picked and organically grown on Malabar Farm.
Next to it stands the old Schrack house which Bromfield purchased in 1941. A big brick house built in 1820, it now operates as Malabar Farm Restaurant, serving organic meat and vegetable dishes grown on the farm. Of course, we stopped in for dinner -- I had the chicken pot pie and Ron and Mark had pot roast-delicious home cooked fare, reasonably priced, with a glass of wine followed by pie & coffee for dessert (being the light eaters we are)!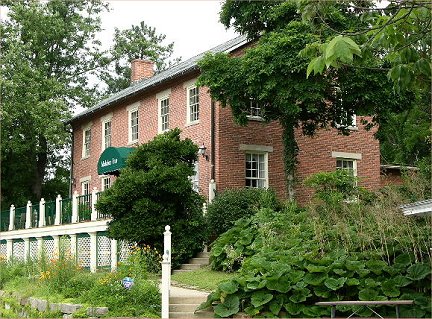 A new Visitor Center was nearly complete and scheduled to open in September 2006. As a premiere center for sustainable living and education it will preserve Louis Bromfield's legacy. The Visitor Center was built using "green" construction techniques, including the incorporation of geothermal energy, solar and wind energy, recycled materials, and water conservation technology. It will include a conference room, educational offices and over thirty interactive exhibits to enable people to learn about sustainable agriculture, renewable energy, ecology and our environment. The Center will include space for the sustainable agriculture library, which up until now has been housed in an outbuilding which suffered some water damage in the floods earlier this year. Fortunately these books - approximately 2,000 volumes which contain much of the information on which Bromfield's farming methods were based - survived.
Malabar is still a working farm. There are approximately 950 acres of woods, fields and farmland, interlaced with miles of lovely trails for walking, hiking, skiing and horseback riding. During our visit, the fields were fragrant with fresh-mown hay. A young boy and his father stood on the bank of a farm pond, fishing for bluegills. Cattle and several draft horses were pastured near the barn, which was rebuilt some years ago exactly as it was after being destroyed in a fire. As we left, a large group of people had assembled there for a barn dance with live music and food, and on the horizon, two riders guided their horses across a meadow in the evening light.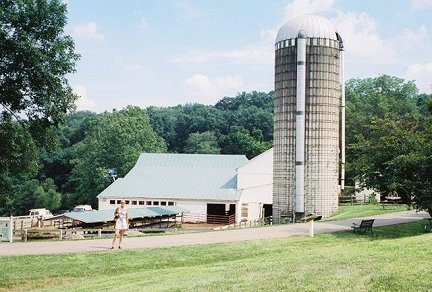 In Pleasant Valley, Bromfield wrote: "Every inch of (the house) has been in hard use since it was built and will, I hope, go on being used in the same fashion so long as it stands."
Malabar Farm is alive and well-Louis Bromfield would surely be pleased.

If you liked this article, Digg it!

<! col. two ends> <!spacer>