<!spacer>

Buying and Selling
Everyman's Library

by Craig Stark

#76, 28 August 2006
A Primer
[EDITOR'S NOTE: In researching this article, I relied heavily on EML collector Terry Seymour's near definitive reference, A Guide to Collecting Everyman's Library.]
In 1906, English publisher Joseph Malaby Dent launched what was to become one of the more extraordinary publishing projects of the 20th century - The Everyman's Library. Conceived to ultimately number 1,000 volumes, the EML was founded on a principle that may have a familiar ring to Modern Library and Heritage Press collectors: Publish the world's greatest books in quality bindings at an affordable price. Dent never lived to see the last volume published, nor did son Hugh, who later headed J.M. Dent himself, and though quality suffered some as the decades passed, #1,000 (Aristotle's Metaphysics) was ultimately published in 1956, fully 50 years later.
It's important for US booksellers to note that American authors are not well represented in the EML - in fact, American publisher Albert Boni founded the Modern Library, in part, to redress this publishing shortfall. EMLs, however, were published under and usually displayed both UK and US imprints (namely, J.M. Dent & Sons, Ltd. and E.P. Dutton & Co.), and many copies were sold in the US. Still, UK collectors are necessarily more enthusiastic and abundant; marketing tactics should take this into account.
It's also important to note that EMLs are not often scarce; final values on many closed eBay auctions reflect this. Typical print runs for editions numbered 10,000, and it was a rule that Dent nearly always lived by. The question then becomes, are EMLs sufficiently collectible to be of interest to booksellers? The answer is a qualified yes, and here are some factors that may contribute to elevated value:
CONDITION

Not surprisingly, books published 80 to 100 or so years ago aren't likely to be looking their best, and EMLs are no exception. Find an early title in exceptional condition, however, and collectors will take notice.

DUST JACKET

Booksellers sometimes make the mistake of assuming that early EMLs were issued without dust jackets. Not so. All started life warmly clad, even those published in 1906, so any early 20th century dust jacket that pops up should attract attention.

EDITION STATE

First edition, first state copies aren't, as a rule, any less common than later printings, but in some cases Dent's production methods contributed to the ultimate scarcity of slow-selling titles. To minimize publication costs, EMLs were frequently printed but not bound and jacketed until orders were in hand. As a result, some titles may display unusual variants - original sheets, for example, bound in a later style cloth or original bindings in later state dust jackets. Copies possessing all first state points, in turn, may be especially difficult to find, but keep in mind that some EML collectors, not unlike other series collectors, may be more interested in series completion than edition state.

CONTENT POPULARITY

Some EML titles were originally purchased to be read, others to be displayed. If the former, this factor sometimes contributes to condition scarcity - for example, the novels of Charles Dickens may be difficult to locate in fine condition because many of them were read to death. On the other hand, fine copies of many history titles, which weren't taken off shelves as often, are correspondingly easier to locate.

CONTENT UNIQUENESS

In some cases values are elevated for titles that weren't available in other affordable editions or for some other reason were extraordinarily popular. Specialty collectors have created a market scarcity for Blackwell's Pioneer Work for Women, for example, and Swedenborg titles, though not scarce as EMLs, have strong values notwithstanding due to less affordable alternatives issued by the Swedenborg Society.

ABSENCE OF REPRINTS

A final factor contributing to scarcity is the absence of reprints. This applies to titles that simply weren't in demand, and their production was abandoned after the first printing. Terry Seymour cites 62 titles that he's not seen in the reprint state. Most of these fall into the 600 to 900 serial number range, likely because many of the later selections weren't classics in the strict sense of the word - and thus were in less demand.

BINDING STYLE

Originally, EMLs were issued in cloth, reinforced cloth (also called library), red leatherette, and quarter pigskin. After 1919, quarter pigskin was dropped, and the leatherette style was improved. The three binding styles continued in various forms until 1940, after which only cloth bindings were available. Collectors may prefer one binding style over another, and generally, EMLs in bindings other than cloth command higher values, especially in VG or better condition.
EML High Spots
Booksellers, of course, will want to know EML high spots. By special arrangement with Terry Seymour, BookThink is pleased to offer a complete EML checklist that tags titles most likely to have value in the resale market. Terry, in the process of researching A Guide to Collecting Everyman's Library, gained access to the J.M. Dent sales ledger compiled between 1906 and 1951 and was able to use this as a starting point for identifying scarce titles in the series. Also, 20 years experience gained from assembling a collection of EML books and ephemera totaling over 7,000 items helped him firm up suspected high spots.
Purchase the checklist for $9.99 here.
IMPORTANT: Due to its size and complexity, the checklist is available only in Microsoft Excel format. If you don't have Excel installed on your computer, download a free reader here.
BOOK LOTS
As you might suspect, more common EML titles are great candidates for grouping into lots.
Additional Reading
There are two must-haves for the serious EML bookseller and collector. The first is Terry Seymour's A Guide to Collecting Everyman's Library. Included are an EML publication history, a detailed discussion of binding and dust jacket variants, a guide to first edition identification, a complete bibliography, 28 photographs, and much more. Note that Terry addresses only those EMLs published on or before 1976. Later productions often fall short of earlier quality standards and aren't considered collectible, though I hasten to add that a post-1976 EML publication of Steinbeck's Grapes of Wrath recently sold on eBay for $49.99.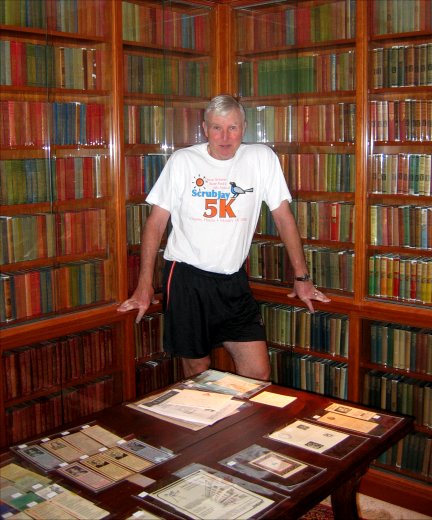 A Guide to Collecting Everyman's Library. Terry Seymour. 2005. AuthorHouse. ISBN: 1420817051 (softcover) or 1420817043 (hardcover).
The other must-have is The Reader's Guide to Everyman's Library. In addition to a history of the series, the Reader's Guide also includes a list of all books published in the series, a synopsis of each title's literary significance, and a cross-index of titles, authors, editors, translators and illustrators. Fair warning: The 4th edition of this title may be difficult to find at a reasonable price, partly because of binding quality issues, but note also that the 4th edition is significantly more comprehensive than previous editions and is to be preferred.
The Reader's Guide to Everyman's Library. 1976 (4th edition). E.P. Dutton & Co. ISBN: 0460018892.

If you liked this article, Digg it!

<! col. two ends> <! space>