A Heritage Press Retrospective
by Michael C. Bussacco
#75, 14 August 2006
"How These Books Came To Be"
George Macy was born in New York City on May 12, 1900 to Harris and Rose (Fedder) Macy. He graduated in 1917 with general honors from DeWitt Clinton High School in the Bronx, at that time an elite school for boys. While achieving the high marks that ultimately made him class valedictorian, he was also involved in a number of extracurricular activities: He was Editor-in-Chief of school publications, President of the Honor Society, and student member of the Board of Governors.
In 1929, he founded the Limited Editions Club and began publishing fine illustrated books in limited numbers (1500 copies) for subscription members. In 1935, Macy extended his range, founding the Heritage Press for the creation and distribution of more affordable 'semi-luxe' books. Directors of the Heritage Press included Cedric Crowell, General Manager of the Doubleday Bookshops, Frank L. Magel, head of Putnam Bookstores in New York, and A. Koch, head of Brentano Stores in New York.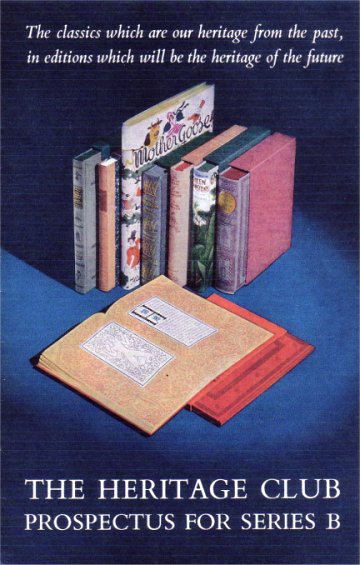 Macy published editions under several imprints. Heritage Press editions were sold through bookstores, while The Heritage Club, The Heritage Illustrated Bookshelf, and The Junior Heritage Club editions were sold by subscription only. These publishing enterprises were combined in 1944 as units of the George Macy Companies, Inc. Each imprint targeted a specific audience; George Macy was a master publicist and had excellent marketing skills.
Macy created the Heritage Club in 1937 in part to satisfy book lovers who weren't able to afford to join the Limited Editions Club. By 1942, membership exceeded 9,200, and three of its selections, Lust for Life, Song of Songs, and Mother Goose, had each sold more than 20,000 copies in a single year. Circa 1938, these were the terms: The subscriber could either send a remittance for $2.50 plus wrapping and carrying charges for each book immediately upon its delivery or he could take a discount of ten percent and prepay $27.00 for a year's subscription. Each month a new edition would be sent with only wrapping and carrying charges due on receipt.
The Heritage Press Illustrated Bookshelf operated in the same manner but was targeted at young adults and teenagers. These editions were not issued with the usual Sandglass newsletter or brochure but did have slipcases or dust jackets. The Junior Heritage Club, founded in 1943, was targeted at preteens, ages 5 to 12, and included The Monthly Magazine of The Junior Heritage Club. This booklet was approximately 16 pages and, like the Sandglass, discussed the accompanying edition, with information about the illustrator, designer, and author.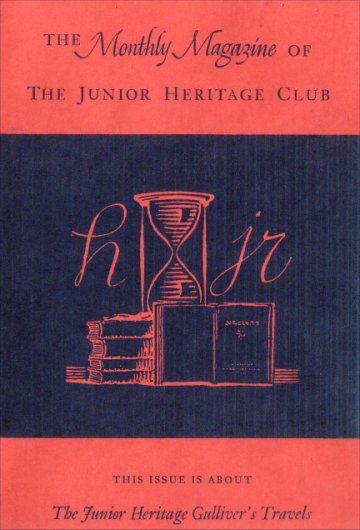 Macy was intimately involved in the work of the Press, designing many of its publications, including The Grapes of Wrath, The Decameron, Hans Christian Anderson's Fairy Tales, and A Shropshire Lad. He also authored The Collected Verses of George Jester and edited Heritage's A Sailor's Reader and A Soldier's Reader. These wartime volumes, published in August 1943, each contained "four hundred thousand words of literary entertainment" for members of the American armed services.

Macy was also associated with another press publishing limited editions; in 1936, he became managing director of Nonesuch Press of London, founded by Francis Meynell.

Macy's accomplishments did not go unrecognized during his lifetime. In 1948, he received an honor never before accorded to a living publisher: A special exhibition of his books was held in the Salle d'Honneur of the Bibliotheque Nationale in Paris. A second honor followed in England in 1952, when Macy became the first living publisher to be given a special exhibition of his books in the King's Library of the British Museum in London. The President of France conferred him the title of Chevalier of the Legion of Honor as well, and the American Institute of Graphic Arts awarded him the 1953 AIGA Medal, its highest honor.

George Macy died in May of 1956. A tribute written by Nunnally Johnson, his friend and colleague for over thirty years, was read by Harold Riegelman at the services held in New York on May 22, 1956. His wife continued the work of the firm until 1968, when son Jonathan took over.

An advertising brochure from 1972 provides a good overview of the Heritage Press:

This is a Heritage Press book. As such, it is a class by itself. For 37 years the Heritage Press has been producing fine editions like this one. Every book selected by our editors is a classic in its field, chosen from the world's best-known and most enduring literature.

Once a title is chosen, we employ the most creative designer, artists, typographers, printers and binders, who combine their talents to produce our fine editions. We believe that the resulting volumes are the only books of their quality available at their price level in the market today.

These collector's volumes, beautifully slipcased, are priced no higher than the ordinary current work of fiction or non-fiction. By investing in them, you have not only benefited your own library but have also created a "reading trust" for generations to come.

<! col. two ends> <!spacer>