The Library at Biltmore
A Brief History
by Samuel Todd Walker
#72, 10 July 2006

Vanderbilt - a name to conjure with. The Vanderbilts were prominent members of America's late 19th century aristocracy of self-created wealth. Cornelius, the patriarch, and his heir, William Henry, amassed a fortune; their descendents spent it, building the vast Vanderbilt mansions which epitomized America's Gilded Age.
George Washington Vanderbilt, the youngest son of William Henry, built the grandest of them all on 100,000 acres in the mountains of North Carolina - Biltmore. George had taken no interest in any of the family businesses, preferring the world of art and travel. Educated at home by tutors, he developed a lifelong love of reading. Many of George's early diary entries mention the books he was reading, and as an adult he kept a dated list of all the books he read. A display case includes a copy of notebooks he kept in which he recorded all the books he read. [EDITOR'S NOTE: No. 3,159, the third volume of Henry Adams' History of the United States, is the last entry in the list. Between 1875 and 1914, therefore, he read an average of 81 books a year.] At the age of 11, he already had his own small library adjoining his bedroom in the family's Fifth Avenue mansion. He continued to purchase books, both on trips to Europe with his father and from New York booksellers.
When he constructed Biltmore, he finally had an opportunity to showcase the collection that he had built, working with his architect to design and furnish a magnificent library. Over 10,000 books are shelved in the library at Biltmore, and another 12,000 are in storage and on display in other rooms. History was Vanderbilt's passion, and in Biltmore's library today the history books dominate. Like many avid readers, he was something of an autodidact. Creating his estate was a major undertaking, and he was intimately involved in all decisions regarding it. His library reflects the depth and breadth of his involvement, and by studying the books in the library at Biltmore we can follow his interests.
He had excellent collections in architecture and in landscape design, including forestry. During the construction of Biltmore he wanted to be able to discuss his plans with his architect, Richard Morris Hunt; with his landscape architect, Frederick Law Olmsted; and with his forester, Gifford Pinchot. All three advised him on appropriate books to purchase in their fields.
Interior design is another well-represented category. In decorating Biltmore Vanderbilt relied on his own taste, not, as would have been typical of the time, that of a hired decorator. He took a personal interest in furnishing his mansion, and worked closely with Hunt. On one visit to London the pair bought some 300 rugs from one dealer alone.
Art books abound. Vanderbilt was a patron of the arts and commissioned paintings by John Singer Sargent and James McNeill Whistler among others. Although he was a music lover, there are no music books here. Why would a man who loved opera, particularly the works of Wagner, and kept a box at the Met, not also collect books about music? I believe that he did, but that they were included in a gift made to the Columbia College of Music - a bequest in honor of his close friend and cousin Clarence Barker, a talented musician who died at Biltmore. This perhaps also explains why the Biltmore Music Room was never completed until long after Vanderbilt's death.
Another art - literature - is represented by many volumes of poetry and plays. Vanderbilt was known to entertain guests after dinner by reading aloud a story or a poem. I've been asked if there are many first editions in the library at Biltmore. Remarkably, Vanderbilt liked to acquire books in an even earlier state - unbound, primarily so he could have them bound to suit. He was also an amateur bookbinder himself.
The writer Paul Leicester Ford was Vanderbilt's close friend. He gained notoriety in 1902 when he was murdered by his brother, who then committed suicide. Ford's field of expertise was American history, and he also wrote historical novels. In one of them, Janice Meredith, he wrote a full page thank-you letter to George for the inspiration that Biltmore had given him while writing his novel there.
Biltmore contains many books of religion and philosophy. George had been raised a conventionally religious man, sitting in the pew beside his mother at St. Bartholomew's Church in New York each Sunday. In his early teens he wrote in his diary that he read the Bible every day and felt better for it. After his marriage to Edith Dresser the couple developed an interest in the new religious movements of the time, and the library reflects this interest.
Vanderbilt is said to have read eight or ten languages fluently and to have amused himself by translating Sanskrit and Hebrew - an unusual hobby, to say the least. Thus, many of the books in the library are in foreign languages.
In 1895 Vanderbilt decided he needed a personal bookplate. Naturally, he designed one himself, and then turned to the well known engraver and designer Edwin Davis French to make his vision a reality. French was an authority on Volapük, a constructed language, and it is interesting to speculate about whether he and Vanderbilt found that they had interests in common. [EDITOR'S NOTE: The bookplate features an oil lamp and the Latin inscription "Quaero Ex Libris Biltmore": Inquire in the books of Biltmore.]
At Christmas of that year Vanderbilt opened the doors of Biltmore for the first time.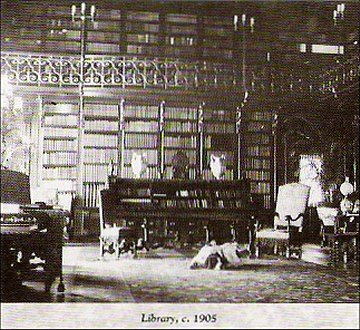 It had been under construction for over six years but was still unfinished, with the library merely a shell. A year after the opening of Biltmore, the library was starting to show its beauty. The paneling, which had arrived in 1895 too green for installation, had been put in kilns to dry and was being installed. The beautiful ceiling painting - The Chariots of Aurora by Giovanni Antonio Pellegrini (1675-1741) - had been restored in Paris and was being mounted.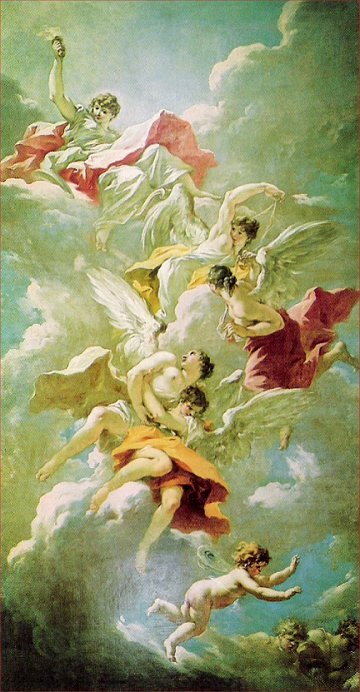 This work had been purchased secretly from a Venetian family who found themselves in financial straits; they sold it with the proviso that its provenance was not to be remarked upon and the price paid was not to be revealed. Today it is known to have come from the Palazzo Pisani on the Grand Canal in Venice.

<! col. two ends> <! space>