<! col one starts>
<! col one ends> <!space>
<! col two starts>



<!spacer>

From The Editor

by Craig Stark

#72, 3 July 2006
Part II of "The Future of Bookselling: How To Succeed in Spite of It" continues today with a discussion of New School and Old School bookselling. I, for one, owe much to Old School booksellers, and I'm reminded daily how much the success of my own business is based on what I've learned from them - and will no doubt continue to learn. If I haven't said it before, thank you. Time marches on, however, and Old School booksellers, however experienced and knowledgeable, aren't the future of online bookselling. New School booksellers are. The transition from old to new isn't complete by any means, but speaking only of online bookselling, is the torch ready to be passed? Maybe. Much will depend on how New School booksellers conceive and subsequently sustain their roles. Look here if you need an attitude adjustment.
Also today - May's Top Ten on eBay. A few days ago, Pam mentioned that the top book had sold for over $50,000. I replied, "What was it? Some Mormon thing?" And she said, "How did you know?" Actually, I didn't know, but my guess was based on past experience. A number of years ago I purchased an early nineteenth-century handwritten hymnal that had been represented to me as Mormon in origin. What made this especially intriguing was that it was contemporaneous with Joseph Smith's Book of Mormon. At the time, I asked a Mormon friend to make inquiries to the Church about its actual origin. During the discussions that followed (almost mysteriously, indirectly, through third parties) the number "$50,000 or more" was kicked around as a potential value - IF, that is, it could be established as Mormon.
Unfortunately, it turned out to be an early Shaker hymnal that ultimately sold for less than $5,000, but the memory of my brush with fortune remains vivid, and meanwhile, I've had numerous, if lesser successes selling Mormon books and ephemera. This is one reason we take our Top Ten lists seriously at BookThink. Though most of us don't come across blockbuster titles often, they nevertheless point unwaveringly to flashpoints - i.e., related books. And there's nothing like big money to make them gleam.
The seller of the Book of Mormon - a first edition, by the way - has graciously given her permission to publish a photograph from the auction listing. Needless to say, this copy has weathered a storm or two!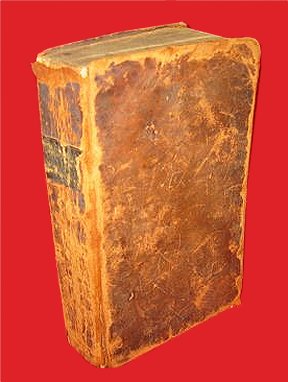 Finally, this just in from Shawn Purcell, newly annointed editor at IOBA - the IOBA Standard (newsletter) has returned after a year's sabbatical. The Summer 2006 issue is here.




<! col. two ends> <! space>
<! col. three begins>







<! col. three ends> <!spacer>
<! col. four begins>











<! col. four ends>