The Bookwoman's Last Fling is scheduled for release on May 23, 2006. Like other Janeway novels, it's a page-turner laced with nuggets of information on valuable books. And here's even better news: This is definitely NOT that "last fling" for best-selling author John Dunning. He will be back with another Cliff Janeway mystery in the future. I spoke with Mr. Dunning recently about his life, his writing and his latest book.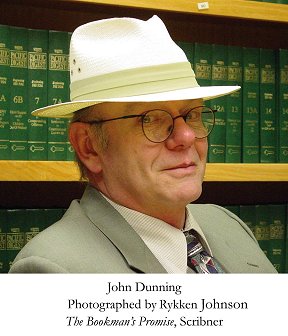 BOOKTHINK: Have you always lived in Colorado?
I was born in Brooklyn, but my family moved to South Carolina when I was three years old. Later on, my best friend decided that he and his wife would move to Colorado. I was stuck in a dead-end job in a glass factory making $1.35 an hour (and that was after I got a raise). I decided it was time for me to get out of Charleston as well. So we all got in the car and came to Denver, and I've been here ever since. The race track scenes in the book are all based on remembered stuff. I didn't research it - I lived it. When I came out here I went to work at Centennial Race Track and from there to California and did the Sacramento and Santa Anita tracks, and some of the other places I wrote about. It's been forty years, of course, since I did this.
BOOKTHINK: I get the impression from reading your books that you may have had law enforcement experience - or have done a lot of research in that area.
I was police reporter for the Denver Post, rode in cars with them and such, but had no real experience in law enforcement. Mostly I wing it, and I go by what basically feels right. If it feels right, sounds right, and smells right, I make the assumption that it probably is right - and I hope it works.
BOOKTHINK: When you begin a novel, do books suggest the plot or do you weave books into a plot you already have in mind?
I have done it both ways. In the old days, I used to start out with an idea and grope. Now I just grope. I start somewhere, and then I just meddle, so to speak.
BOOKTHINK: This book made me think about what happens to private book collections after the collector dies. What should people consider if they have a nice collection - or inherit one?
My feeling is that you have to be careful. Giving a collection to a library isn't always a good choice. The libraries are all going to hate me for this, but the fact is, a lot of libraries don't know what to do with a great collection. They don't have any idea how to handle it or how to take care of it. The collection we are talking about in my book is fictionalized, of course, but it is the kind of collection you would never want to have fall into the wrong hands.
BOOKTHINK: Near the end of the story, Janeway receives a thank-you gift - a package with a great book inside, and yet you don't reveal the title. Did you have one in mind when you wrote this into the story?
You know, I think my wife mentioned to me that perhaps I should tell the readers what book was in the package, but I didn't want to name the book. I wanted to let the reader imagine a great book for themselves.
BOOKTHINK: At one point in the story, Janeway finds himself in a situation of having to choose between focusing his attention on a life-threatening stake-out or diverting it and checking out what looks like a valuable book being offered for sale just out of his reach. Have you ever been in a situation like that? Where it wasn't the right time or place, but the book was there, ripe for the plucking?
No, I can't say that I have. I've always been able to grab the book. This situation in the book was totally made up. Then of course, the reader is wondering whether the book will be there when he goes back for it.
BOOKTHINK: Even though Janeway has spent years as a homicide cop, he still seems to have an underlying affection for people: He's willing to give them a chance. Is this a reflection of your character as well?
You're asking me for a self-congratulatory image here, which I don't want to do, but I think anything a writer writes is a reflection of his own character. Which I suppose doesn't reflect very well on some writers who write about serial killers and similar material. Janeway is an idealization, with feet of clay. He is somebody who, if I were in a different life, I wouldn't mind being.
BOOKTHINK: I loved the cover art on The Bookwoman's Last Fling. It was quite different from the other Janeway novels.
Did you like it? That's great. There was a really mixed reaction to it. It's grown on me. The other books in this series - The Bookman's Promise had a wonderful cover on it, and The Sign of the Book did too. With this book, we were all operating under a sense of urgency because they "crashed" the book, which means that they produced it in half the time that it normally takes. This means that everybody, from me to the Art Director to everyone else in the process had to get their jobs done in front of the original time frame, but I think it all worked out fine. There's something in each of these books that people do or don't like. In the Burton book, for instance (The Bookman's Promise), it's not linear. It doesn't go straight through. There's a bump when Burton and Speke come in, and some people loved that, others didn't.
BOOKTHINK: Have you ever known a really bad bibliomaniac?
Like the one in the book? No, I've never known anybody who kills people over books. But that will be the next thing, because how do describe a bibliomaniac? Some will go to any lengths to get the books they want.
BOOKTHINK: How about the stolen book trade? Do you think a lot of it goes on?
We've experienced some of that, and I do think there's a lot of it that goes on. Some book dealers have books stolen from their stores, and they don't even know about it for years, if they ever find out, because most of us don't have a record of everything that's in the store. In our case, we had some 20,000 books in our store. Over the years you tend to forget what you have, unless it's a glass case item or something like that. And it's amazing - some of these people can get books out of a glass case. Now don't ask me how they can do that, but we've had items go missing from a glass case - a locked glass case. Go figure.