<<< Continued from previous page
BOOKTHINK: I've read that with the more current editions, even if the copyright page says "First Edition" it might not necessarily be a Modern Library first.
That's right. In the recent editions, the price on the dust jacket is a better indicator, which should be corroborated by what is on the copyright page.
BOOKTHINK: What do you think about the more current Modern Library editions. A they are still producing good books?
I think initially the plan was to publish good titles cheap. Well, I think the titles are still quite good, but they are no longer cheap. Also, they are "perfect bound" where the early Modern Library books were stitched, so the newer ones are not as well made. They are better than the 70's series, which were still inexpensive but quite ugly.
BOOKTHINK: What are some of the more challenging areas of focus for collectors today?
Indisputably, the hardest to find are the Boni Liverights (that's for the Modern Library published between 1917-1925) with jackets. You're damn lucky if you find a dust jacket that is not in tatters. The dust jackets were very fragile, so they are very hard to find in anything like presentable condition.
BOOKTHINK: There are some editions that have some interesting forewords by authors who were prominent?
Yes. Some of them were unique to the Modern Library, which would often mean collectors of that author would want the Modern Library first edition because it contained the first appearance of a foreword, introduction or whatever it was, by a particular author. An example would be Fitzgerald's The Great Gatsby, where he wrote a special introduction for the Modern Library.
BOOKTHINK: Any advice to readers on collecting Modern Library today?
I think collecting Modern Library might be in decline. A lot of people try to buy from eBay, and there are a lot there. Many don't sell. The common titles are pretty plentiful, so you can still find them cheap. If you do, and they are in fine condition, I'd say they are probably still worth buying if you don't already have them. As for a rarer title, especially one published before 1940, if you see one, grab it. The chances are you'll never see it again.
The buckram editions, which were published for use in libraries, are very hard to find - especially in giants. There are very many things you can collect: illustrated, first editions only, paperbacks (excluding the College Series), regular series, giants. The paperbacks are very cheap and there are only 76 of them, but most people don't collect them. However, there is actually one paperback that is a first edition in its own right and in fine condition fetches over $100. The Long March by William Styron.
I think to start with, unless you have very deep pockets and a lot of space, you should focus on a particular aspect of Modern Library. There are about 800 or 900 titles in the regular series. Most people collect these in jackets, and the more fastidious want only first editions in first issue jackets. But collect because you enjoy it. If you are doing it for the money, forget it. Things change. What appeals to one generation does not necessarily appeal to the next.
BOOKTHINK: Have you any advice for booksellers?
I must say that, as a seller, I try not to interject my own preferences into what I buy to resell. If other people want a genre or particular author, even if I think they are trash, it's none of my business.
But from the seller's point of view, it's a good idea to have a specialty - something you know well and buyers will come to you when looking for that specialty. If you don't do this, selling becomes almost entirely luck. If you specialize, the chances are you can see a bargain when it hits you, whereas if you don't, you won't know a bargain when you see it.
From a selling point of view, people want "information," so they go for art, history, science or something like that. Fiction is something of a lottery. Best sellers come and go. Fiction, however, has one advantage as far as a bookseller is concerned: it is often mis-priced. People don't know all fiction well, and they can't always identify a first. If an art book looks impressive, the chances are its price is too. You don't get the bargains in non-fiction that you do in fiction.
BOOKTHINK: Is there anything else you might like to share, perhaps your take on book collecting/selling today?
Before 2000 the people who were buying - anyway from me - were the computer nerds: (a) those with computer know-how; (b) they had plenty of money; (c) they liked reading and collecting first editions. Then came the 2000 recession and the collapse of the dot-coms. Those customers have gone and new ones are not replacing them.
Further, the whole field has become more competitive. There are over 70 million books on-line, 15,000 or more dealers or others selling books on the internet, and don't forget Ebay - another source of books. In addition, the bookseller now has to compete for the consumer's time in other fields like computer games, TV, collecting baseball cards, coins, etc. I get the feeling that fewer people are reading.
All collecting depends on what the younger generation is doing. It's like stamps. Younger people now are not collecting stamps; therefore, their value is not going up. Mostly, I think the older people are collecting Modern Library. I don't know. I have a few young collectors, but on the whole not too many. However, the books should maintain their value. I find it absurd to pay only $4 for a nice hardcover modern library in dust jacket when a new paperback costs $7, $8 or $9. I don't try to explain people's thinking: they do what they do. I personally prefer a cheaper hardback than a paperback, but then I find it impossible to read on a bus.
I believe 50% of bricks & mortar booksellers have gone out of business in California in the last four or five years, and the on-line business is pretty awful too, as far as I'm concerned. To make matters worse, it's something of a lottery whether your particular book appears when searched for. Often it does not. As for putting in specific criteria (first, with dust jacket, signed, etc.) forget it. You will, in all probability, get Book Club editions, previous owner's inscriptions, dust jacket missing etc. The servers, which act as intermediaries for the book sellers, take quite lot of money for all this and more often than not do not reimburse the sellers for sales tax, postage insurance for expensive books, and their provision for mailing it is often totally inadequate.
BOOKTHINK: Any plans for further books or price guides in your future?
I have no intention of writing any more bibliographies, though I have prepared a couple checklists for Robin Maugham and Christopher Isherwood, but for firsts only - UK and US. As for my fiction, I have a few short stories published in obscure or defunct magazines.
BOOKTHINK: How can readers obtain a copy of your Price Guide?
They can contact me at BooksetcSF@aol.com. The first guide was done in 1993, the second in 1995, and the last one came out at the end of 1999 and is titled The Modern Library Price Guide, 1917-2000. Four editions of the last one were produced: a paperback, a hardcover, a limited numbered edition, and there was a lettered edition which came with an all-color supplement illustrating dust jackets of the same title. The original prices were $17.95 for the paperback, $39.95 for the hardcover, $65 for the limited edition which comes with a dust jacket and is limited to 100 copies and signed by me with an inserted colored limitation page; the lettered edition is the same as the numbered edition, except, in addition, it comes with the all-color dust jacket supplement, and book and supplement are housed in a slipcase: original price $135.00.
BOOKTHINK: One of your other specialties is Edward Gorey. You published a bibliography and price guide called Goreyography. Can you tell us a little about that?
Goreyography was published in 1996. The paperback edition was priced at $24.95 and the hardcover at $45.00. There was a limited numbered edition (200 copies) which came out at $85 (they were signed by Gorey) which now usually sells for around $165, though I have seen copies up to $250. The lettered edition (26 copies) came in a slipcase, also signed by Gorey. That is difficult to find and now sells for between $350-375.
BOOKTHINK: Thank you, Henry, for sharing your knowledge with us. It has been such a pleasure talking with you.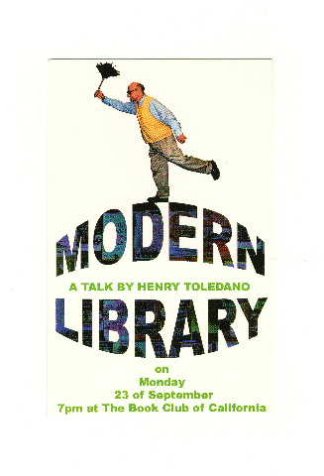 <! col. two ends> <! space>