<! col one starts>
<! col one ends> <!space>
<! col two starts>



<!spacer>

by Timothy Doyle

#57, 5 December 2005
| | | |
| --- | --- | --- |
| This month's column is the first in what will be an irregular series featuring many of the SF and Fantasy reference sources I use on a regular basis. In any field of study, reference works can range from broad overviews to the narrowest of specialized topics. For the purposes of this article, I will discuss two of the more general (or multi-purpose) references available. Both books are encyclopedic in nature, and thus feature a wealth of information. The first is primarily textual, the second largely illustrative. Taken as a pair, the combination is a nearly unbeatable addition to your science fiction reference library. | | |
The Encyclopedia of Science Fiction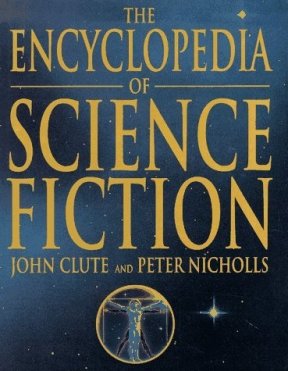 Without a doubt, John Clute and Peter Nicholls' The Encyclopedia of Science Fiction should be at the top of any list of SF resources. A previous incarnation of the encyclopedia (edited by Peter Nicholls, with John Clute as Assistant Editor) was published in hardback in 1979. The updated Clute and Nicholls (sometimes incorrectly referred to as The New Encyclopedia of Science Fiction) is a mammoth work of 1370 pages, comprising 1.3 million words distributed over 4,360 entries written by over 100 contributors. First published by St. Martins in hardback in 1993, there have been several reprints by both St. Martins and Time Warner UK (Orbit) as well as a CD-ROM version. The reprints and CD-ROM are recommended because they are updated to 1995 and include a nearly 50,000-word addenda (with errata and supplementary material). For those of you who have the original 1993 hardback edition, this material is available online.
Used paperback and hardback editions of this book are available for under $50. This is such a thick book and you will find yourself consulting it so often, however, that I would strongly recommend the more durable hardback edition.
The Encyclopedia of Science Fiction makes a generally successful attempt to cover the depth and breadth of science fiction from its early years to the mid 1990s. Contributors' initials appear at the end of the articles, and a complete list of contributors (with initials) can be found at the front of the book. Many are themselves well-known SF authors - Brian Aldiss, Thomas Disch, Neil Gaiman, John Sladek, Brian Stableford, Lisa Tuttle et al.
Entries fall into one of several categories:
Author profiles.

Most of the entries consist of profiles of authors, and over 2900 of these were written or co-authored by John Clute. Full entries are found under the author's real name, working name, or pseudonym - whichever is best known. As a convenience, the reader will often find topic listings under the non-primary name, cross-referenced to the main entry. For example, a listing for "McBain, Ed" directs the reader to the main listing, found under "Hunter, Evan." The foreword to the Encyclopedia notes that, in addition to the 4,360 primary entries, there are approximately 2,100 of these cross-reference entries.

Biographical content (apart from birth and death dates) varies from next to nothing to terse. Compare the entry for the minor SF/Fantasy author Robert Spencer Carr ("US writer, brother of John Dickson Carr") to that of Isaac Asimov, which details his birth, immigration, citizenship, early childhood, military experience, academic degrees, and (second) marriage in five sentences, taking up half of the first paragraph. To compensate for the dearth of biographical detail, the reader is directed to additional sources. In Asimov's case, his two-volume autobiography In Memory Yet Green and In Joy Still Felt.

By contrast, the remainder of the Asimov entry (nearly 5 pages of small, double-column text) lists every genre title (including collections), pseudonyms, important magazine appearances, series (e.g., the Foundation and Robot novels), movie tie-ins (e.g., Fantastic Voyage, 1966), awards, relevant non-fiction, titles about Asimov, and a long cross-reference list to related topics in the encyclopedia. And in the midst of this massive yet precisely arrayed detail, you find the following: "For fifty years it was IA's tone of address that all the other voices of sf obeyed, or shifted from - sometimes with an eloquence he could not himself have achieved. It may indeed be said that he lacked poetry; but for five decades his was the voice to which sf came down in the end. His was the default voice of sf." Many of the author entries, and certainly the most interesting ones, are sprinkled liberally with these insightful, if opinionated asides.

Theme entries.

The encyclopedia also includes 212 theme entries, which taken together may almost be said to form a book within a book - a concept that is explored, by the way, in the RECURSIVE SF theme. Readers of BookThink's Collecting Science Fiction column are already familiar with my theme-based approach and will understand my enthusiasm for this feature of the encyclopedia. Article length is usually between 1,000 and 3,000 words, the majority written by Brian Stableford or Peter Nicholls. Clute refers to the theme entries as "the connective tissue of the encyclopedia ... [which gives] a coherent sense of the HISTORY OF SF (itself a theme entry) and of what sf is all about." But more than outlining the development of the genre, examining SF themes can provide an important measure of our own history. As I note in a previous Collecting Science Fiction article:

"[T]he real value of SF is to function as a mirror for observers (to hijack an Edgar Pangborn title); that is, SF really speaks more to the present than to the future. At times the mirror magnifies some aspect of society, and sometimes it is a funhouse mirror that distorts or exaggerates. Jack Finney's classic Invasion of the Body Snatchers (1955) was not a story of alien invasion; it was a cautionary tale about the Communist threat and the rise of McCarthyism. ( Cracking the Ice: Cyberpunk SF; #37, 28 February 2005.

As an aside, the Jack Finney title cited above is discussed in four separate entries: author entry, movie entry (covering both the 1959 and 1978 versions), INVASION theme, and PARANOIA theme.

Theme entries are also the most fun for me. Each is a gateway into a marvelous realm of the imagination, and multitudinous links can whisk you to destinations you could never anticipate. If one accepts that meaning derives not just from a definition of terms but also from showing the relationship between things, then the massively inter-linked theme entries in this reference represent a body of meaning far greater than the sum of their parts. The following articles present especially good discussions on knowledge and meaning: CONCEPTUAL BREAKTHROUGH, METAPHYSICS, PERCEPTION, and PSYCHOLOGY.

Visual media.

Finally, over 1000 entries are devoted to visual media (TV, Films, and Film Makers); non-book printed media (Magazines, Fanzines); other individual entries (Critics, Publishers, Illustrators); and Terminology, Foreign SF, and Miscellaneous entries.
The Encyclopedia of Science Fiction is a deep, outstanding resource for anyone with an interest in the genre. Fans, critics, collectors, historians, media buffs, teachers - all will find it useful. An obvious drawback is that it's current only to 1995 (in the reprint and CD-ROM versions only). An online version has been rumored to be in the works for some time, but nothing definite has been announced. Also, as a bibliographic resource, it falls short of being definitive. Author entries do include lists of all genre titles (and pseudonyms when applicable), previous magazine appearances (e.g., serialized novels or short stories cobbled into novels), as well as alternate titles, but bibliographic detail is limited primarily to title and year of publication. The bibliographer or bookseller researching edition state needs much more information: publisher, precedence (e.g., UK over US), page count, cover price, points of issue, etc. But even though this information is absent in The Encyclopedia of Science Fiction, I hesitate to call it a failing, in the same way that I would not describe a screwdriver as a flawed tool because it does not pound nails very well.

Buy it new or used here.

<! col. two ends> <! space>
<! col. three begins>







<! col. three ends>