<! col one starts>
<! col one ends> <!space>
<! col two starts>
<! col two starts>



<<< Continued from previous page
What I'm especially interested in are condition hot spots, those locations on a book that are most susceptible to damage. The extremities are especially vulnerable - tops and bottoms of backstrips and corners - as are hinges. In this particular series, due to Grosset & Dunlap's characteristic and unfortunate use of, sigh, inferior materials, copies with pictorial boards are very susceptible to chipping, so much so that it's difficult to find copies that aren't chipped. I'm also interested in seeing the top of the text block. This is where dirt/dust typically accumulate, and in the case of Hiltons, the top edge is stained deep burgundy and functions as a reliable barometer of more general wear - that is, if the color is worn, scratched, sunned (or faded), etc., likely so too will the book be. In addition, I want to know something about the binding - how tight it is - and, if there are other, less typical defects, those as well. Finally, I want to see, not just read about, proof of edition state. A seller can insist all day long that a book is a first edition, but unless I see it with my own eyes or am dealing with somebody with an established reputation, I'm skeptical.
Look at the series of pictures below, and you'll see that every last one of my needs has been clearly met. I now know that the extremities are crisp, the hinges are intact, there's no apparent chipping, the top of the text block is clean and uniformly, vividly colored, the text block itself is tight (note that it isn't lying flat), and "Buzzer Basket" is precisely where I want it to be on the title list - at the bottom. As a collector, I'd know instantly that this book is a sweetheart, something that doesn't pop up every day, and if I needed it for my collection, why, I'd bid freely and without hesitation to get it.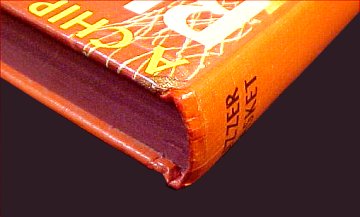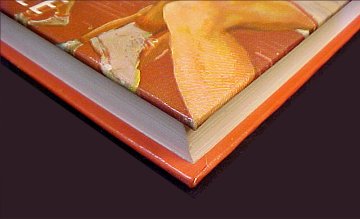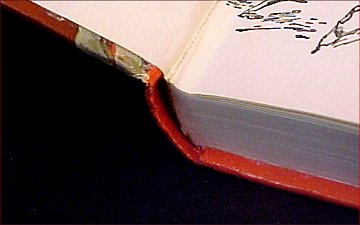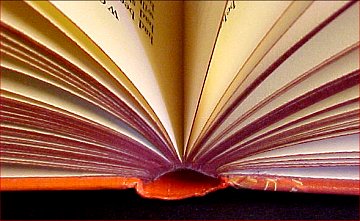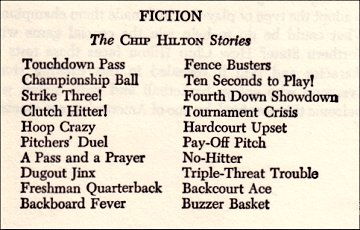 Fortunately, it's not necessary to go into this much photographic detail with every book you market on eBay, not even most of them, but it can make an enormous difference with collectible books, sometimes by a factor of 2 or even 5 times, and even on content-valuable books it helps considerably if one or two good pictures are present. Admittedly, it takes time to take and edit multiple pictures, but with practice you could accomplish this set in about a half hour or less. It's worth it if you stand to profit another $20 or $30 from the effort. And with Hilton's you usually will. At least.
If you aren't able to take quality pictures, the problem could be your camera, your technique, your editing, or any combination of the three. Correct these, and I think you'll be amazed at the interest you'll attract. For more information on book photography, see BookThink's series on this topic.
Since I've already landed on planet Hilton, I'm including the following bibliography. It's complete as issued by Grosset & Dunlap (with the exception of #24), though the series has been republished recently in both hardcover and paperback formats. Note that titles #1 - #19 were initially published in paper-covered boards with dust jackets. Dates in parentheses indicate G & D reissues in coated pictorial boards only. #20 - #23 appear only in the pictorial board format. If you missed this earlier, Hiltons are COMMON. They fall into the same bread-and-better class that C.W. Andersons do and should be a staple for generalist booksellers.
Bee also penned a number of non-fiction titles, primarily basketball guides, which are almost always worth picking up at sales. I won't bore you with titles. Just remember the name and grab.
Touchdown Pass 1948 (1962)
Championship Ball 1948 (1962)
Strike Three! 1949 (1962)
Clutch Hitter! 1949 (1962)
Hoop Crazy 1950 (1962)
Pitcher's Duel 1950 (1962)
A Pass and a Prayer 1951 (1962)
Dugout Jinx 1951 (1962)
Freshman Quarterback 1952 (1962)
Backboard Fever 1953 (1962)
Fence Busters 1953 (1962)
Ten Seconds to Play 1955 (1962)
Fourth Down Dhowdown 1956 (1962)
Tournament Crisis 1957 (1962)
Hardcourt Upset 1957 (1962)
Pay-off Pitch 1958 (1962)
No-Hitter 1959 (1962)
Backcourt Ace 1961 (1962)
Buzzer Basket 1962
Comeback Cagers 1963
Home Run Feud 1964
Hungry Hurler 1966
Fiery Fullback 2002 (written in 1966)

<! col. two ends> <! space>
<! col. three begins>


<! button for rotating ads starts here>

<! col. three ends>