| | | |
| --- | --- | --- |
| | | #40, 4 April 2005 |
Profile of Catherine Petruccione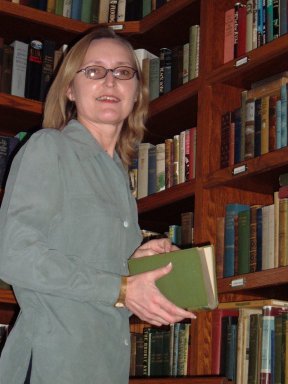 Name: Catherine Petruccione.
Name of Business: Old Scrolls Book Shop.
Location: Mailing address: 4578 Rte.247, Stanley, NY, 14561. Physical location: township of Gorham, 8 miles southeast of Canandaigua, New York, in the Finger Lakes region of Upstate New York.
Website (if any): http://www.oldscrolls.com/
Number of Years in Business: Beginning our 5th year.
Part Time or Full Time: Part-time (40+ hours/week).
Bookselling Venues Used (in order of importance): Abebooks, Alibris, visitors to our shop and to our website, Biblio, ChooseBooks.
Size of Inventory: 6,000+.
Specialties: Antiquarian non-fiction, vintage first editions (1900-1950); equine/equestrian; travel/adventure - never pass up an outstanding book on any subject.
Why I Sell Books: I enjoy saving great books and passing them on to other readers and to future generations. It's like a never-ending story ...
Advice for New Booksellers: Get out while you can! Truly, be serious about your business: choose books wisely, be gracious and prompt in your replies to customers, meticulous in keeping your online inventory up to date, and honest in all your dealings. It helps you, and it helps all of us as booksellers. Don't be so serious that you forget to enjoy your customers, make new friends, and learn something everyday. Invest in good reference books, do research, learn from others. Keep reading. You can't sell what you don't know. This is not a business for the short term; too much time is needed to acquire a desirable inventory and enough knowledge of books so that you can be increasingly helpful to your customers.
Best Bookselling Tip: Quality inventory sells itself. It's really not about having the fanciest website, the latest technology, or the coolest logo. It's really about the books. Concentrate your money, effort and time on learning what has value and tracking it down. Reinvest in increasingly better books as profits allow. If you develop an inventory of great books, people will seek you out.
Favorite Author(s): Michael Ondaatje, Louis Bromfield, Isak Dinesen and Beryl Markham. One of my favorite books is The Autobiography of Benjamin Franklin. He could do everything well - including writing a great life story!
Favorite Quote: "From your parents you learn love and laughter and how to put one foot before the other. But when books are opened, you discover that you have wings." - Helen Hayes
And More:
Old Scrolls Book Shop was established in early 2001 as a sole proprietorship (that's me); however, I have had great support, encouragement and assistance from my partner in business and life, Ron Sollome, from day one. His superior skills as a carpenter turned the parlor of our 1850's farmhouse into a gracious library where several thousand books are on display, and book hunters are welcome to browse by chance or appointment.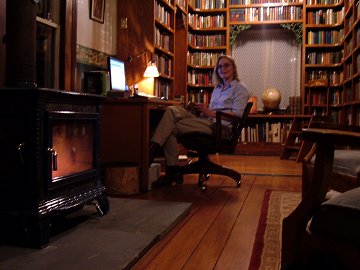 Located about 30 miles southeast of Rochester in the Finger Lakes area of upstate New York, we are in the heart of wine and lake country where tourists abound during the warmer months.

Both of us have maintained other full-time jobs while getting the book business established. This has meant working late into the evenings and every weekend, but it has been work we thoroughly enjoy. Ninety percent of our sales are by internet, mail or phone. We list our inventory (currently 6,000 books) on Abebooks, Alibris, Biblio, and maintain a web page at www.oldscrolls.com We are members of IOBA. We feel the success we have enjoyed can be attributed to several factors. Having good books is crucial; and finding them in very good to fine condition is important as well. After awhile, customers know they can count on receiving clean, solid books from you, and this means repeat sales.

It helps to have been a life-long reader on many subjects because many important (as well as not-so-important) books and authors are ingrained in the subconscious and are instantly familiar when they appear. I continue to read (even if it's very late at night) so that I am familiar with new authors as well as old ones I have missed. This helps immensely in being able to select stock. We constantly search for great books everywhere - estate sales, FOL sales, other bookshops in all parts of the country and antique shops. If the vehicle leaves the garage, it usually comes back with at least a book or two, sometimes boxes of them. We purchase books from people who are reducing their households or settling estates as well, and we treat people as we would like to be treated. We offer very fair wholesale prices for books we acquire. Even those who tell us to come and pick up books for free get paid(!) - if there are books there that are worth buying, we pay for them. This helps us, for word spreads that we are good people to call when emptying the attic or settling an estate.

For our customers, we make sure they get prompt replies to inquiries, accurate descriptions and photos, and assistance and information if they request it, even if it doesn't pertain to a book we are offering. We always bubble wrap and box our books, use delivery confirmation/tracking on every book, and get them out in the next available mail. We update our inventory daily on every venue on which we sell, so we rarely disappoint a customer with an unavailable title.

We've shipped books to every state and many foreign countries, and made wonderful friends and acquaintances in far flung places. Our greatest pleasure is sitting down by the library fire after a long evening of work, surrounded by shelves full of great books, and looking over at the stacks of boxes ready to go out in the morning mail. "Little bricks of gold" I call them, not just for the money exchange involved, but for the knowledge, wisdom and friendship they impart.

<! col. two ends> <! space>