BookThink Book Review-
The Sign of the Book
by John Dunning
Reviewed by Pamela Palmer
#34, 3 January 2005
Anyone who equates serenity with the life of a bookseller must be in another line of work - and must never have read The Sign of the Book. In this, the fourth Cliff Janeway novel, policeman-turned-bookman Janeway is doing well with his store. He's just bought "a $1,500 Edward Abbey and a Crusade in Europe that Eisenhower had signed and dated here in Denver during his 1955 heart-attack convalescence." [p. 3]
So taking his love and partner Erin out for a good dinner seems the next logical step. When she asks him to go to Paradise, Colorado to meet with her former best friend, the accused murderer Laura Marshall, he's willing to help. After all, Erin is tied up with her law practice and a couple days away from the store can't hurt.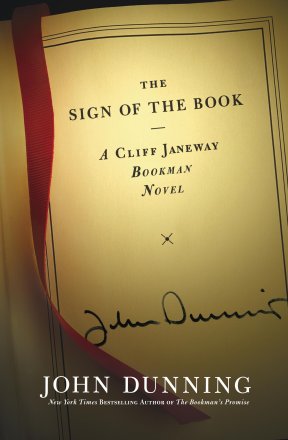 From that point on, this novel grabs the reader's interest and refuses to let go. What Janeway finds in Paradise takes all his detective and book expertise to survive. Start reading and you'll forget to check eBay or Alibris for your own next sale.
The Sign of the Book is a masterful blend of booklore, well-developed characters, insider savvy, and suspense. Bookselling is an integral part of the tale, not merely there to provide a setting. Dunning knows what he's doing, does it expertly, and leaves readers wanting more.
The Sign of the Book is scheduled for release March 8, 2005.
The Sign of the Book
Scribner, 368 pages
ISBN 0743255054
Purchase it here-
Brief Market Analysis
John Dunning's books are commanding substantial prices on eBay. A signed Booked To Die, "US Hardcover First Edition, First Printing, Fine in Near Fine Dustcover" sold for $560 on December 31, 2004. A similar copy sold for $560 (with 13 bids on December 5).

The next highest price on the auction site went for Dunning's Two O'Clock Eastern Wartime, which sold for $271.66 on December 22; this copy is described as "First Edition. Limited Edition. A fine copy in a fine slipcase. Manuscript Edition. As new. One of 100 SIGNED and NUMBERED copies containing one sheet of the working manuscript."

American Book Prices Current volumes for 2002 and 2003 report sales of Booked To Die in the $325-350 range, as well as the sale of The Holland Suggestions "in dj with minor defs." for $200.

Bibliography

The Holland Suggestions
Tune in Yesterday
Denver: A Novel
Looking for Ginger North
Deadline
Booked To Die
The Bookman's Wake
BookScout
Dreamer
On the Air: The Encyclopedia of Old-Time Radio
Two O'Clock Eastern Wartime
The Bookman's Promise
The Sign of the Book

For BookThink's interview with Dunning, click here.

For details about John Dunning's books, see his Old Algonquin site.

<! col. two ends> <! space>