When his first Cliff Janeway mystery Booked To Die (1992) was a big success and won the Nero Wolf Award, Dunning's focus shifted from bookselling to writing. Its successor The Bookman's Wake was a New York Times Notable Book of the Year and finalist for the Edgar Award and Gold Dagger Award. The third title in the series, The Bookman's Promise, appeared to critical praise in 2004. In March 2005, The Sign of the Book will be published. On the non-fiction side, he is the author of two reference works on old-time radio, Tune in Yesterday (1976) and On The Air (1998).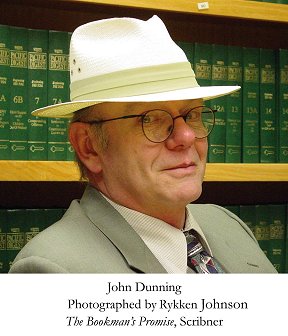 BookThink talked with him recently about bookselling, writing, and how the two work together in his mysteries.
BookThink: Does the focus on detail in your non-fiction carry over to the plots of the Cliff Janeway Bookman novels?
Dunning: In fiction, I'm going for a feeling rather than an actual factual account. In fact, I often get in trouble with plots because I don't plan them. Instead I get the character in my head and just start. Sometimes I know where I'm going but not always. I'm a firm believer in the subconscious doing the job. On a good day, I wake out of a dream and don't remember the dream - but it comes to life on the page. On bad days, well ... . When I write into a corner, I go back to where I last felt the heat. Then the plot can take a different turn from what was expected.
You could divide my career into two parts. For my first five books, I followed a plot. Then after a ten-year layoff, I wrote Booked To Die. From that point I haven't written plots in advance. Now the character dictates what happens and he does pretty much what I would do.
Janeway takes the next logical step and then we see what happens. It's a risky way to write because I can have reams that don't really work. Then I have to punt. A lot of writers can't write like that. They have to work from a plot.
BookThink: When Janeway is intrigued by a mystery, he leaves his bookselling business and sets out to find answers. Is he still a good bookman?
When Janeway takes off after something that matters, he's sure about what he's doing. In The Sign of the Book, Erin asks him to go to a little town. He doesn't really want to go but he wants to help her because she's important to him. Of course, out there he finds a mystery and his own interest is piqued.
Janeway has the good instincts that I think you have to have. He hasn't been in the business long; I don't want him to grow old too fast. He's been a collector for a long time, knows first editions and how to tell them, and knows what they are worth. I think he's a pretty good bookman. He's sure taken less time to get there than I did.
BookThink: How did you learn to be a bookseller?
Before I knew as much as Janeway, I spent seven or eight years as a bookseller on the street where he has his store. Every day you come face to face with your own ignorance. After about five years, I got to the point where if someone said the name of a publisher, say Random House, I'd know they state first editions with a row of numbers starting with 2 but that there are exceptions. For Appleton Century Crofts, the numbers are on the back of the book but there are exceptions to that too.
I learned by using BPI (Bookman's Price Index) and ABPC (American Book Prices Current). This was a more tedious way to learn before the Internet. Now you just turn on the computer and learn what people think a book is worth. The problem with the Internet is there are a lot of flaky people who don't know their keister from a badminton pole.