<!spacer>

by Timothy Doyle

#25, October 27, 2004
A Day at the National Book Festival
Saturday in the Park
| | | |
| --- | --- | --- |
| The fourth annual National Book Festival was held on Saturday, October 9, 2004, and I had the distinct pleasure of attending for the first time this year. Held on the Mall in downtown Washington DC, the 2004 Festival boasted over 70 authors and featured pavilions dedicated to Teens & Children, Fiction & Imagination, Mysteries & Thrillers, History & Biography, Home & Family, Poetry and - new this year - Science Fiction & Fantasy. In addition to speaking, the participating authors also signed books for their many fans. | | |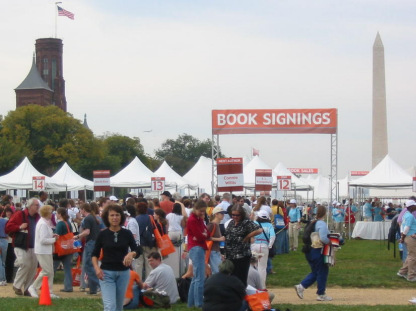 Despite my best intentions, I arrived late on the morning of the Festival. Neil Gaiman was scheduled to sign at 10:00 AM, and when I arrived at 9:45 the line was already far longer than could possibly be processed in the one hour allotted. Later in the day I spoke with someone who, despite arriving at 8:00 AM, still had a dozen people ahead of him in line. Neil Gaiman is incredibly popular, and his novels, short stories, TV productions, screen plays and comics attract a wildly diverse range of ages and interests. If you ever go to a Gaiman signing, plan on arriving early.
Disappointed, I made the best of the situation by heading to the Clive Cussler signing. Cussler's action adventure novels have a large and very devoted following. Most of the later titles, beginning with Treasure (New York: Simon & Schuster, 1988), are commonly available at $10 or less. Signed copies will readily sell for $30 to $40 and sometimes considerably more. In particular, look for copies (signed or not) of the omnibus edition of The Mediterranean Caper and Iceberg (New York: Simon & Schuster, 1995), $100+ unsigned and $150+ signed; and Iceberg (New York: Simon & Schuster, 1996), $200+ unsigned, and $300+ signed. The line was long but moved quite quickly, and I was able to get five books signed.
And so the rest of my day was spent waiting in line. I managed to meet and get books signed by SF authors Ben Bova, Neal Stephenson, Connie Willis, Lois McMaster Bujold, Fred Pohl (a legend in the field); and, thanks to a very gracious unplanned second signing, Neil Gaiman. Though limited to only two books so as to get to as many people as possible, I was very happy to get my ARC and the hardback first of Good Omens (New York: Workman, 1990) signed. Both of these books were signed last year by Gaiman's co-author, Terry Pratchett. HB first, signed by both authors, $100+; ARC signed by both authors, $100+.
In all, 18 books signed by 7 different authors. In addition, I spent a beautiful day outside on the Mall and met and talked with dozens of other SF enthusiasts and collectors. I will certainly go back next year.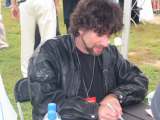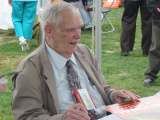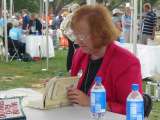 From left to right: Neil Gaiman, Frederik Pohl, Connie Willis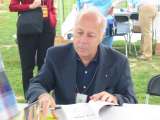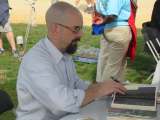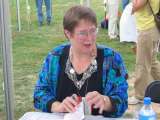 From left to right: Ben Bova, Neal Stephenson, and Lois McMaster Bujold
Following up on Last Month's Column
Following up on last month's column on using the Best Novel Hugo winners as a flashpoint for collecting and selling SF, I have summarized information from several more awards covering SF, fantasy and horror. A glance through the lists will show that there is a significant amount of overlap between these genres. Not only do specific authors publish different genre novels, but sometimes particular novels end up crossing the genre boundaries.

Data for this compilation, including the award descriptions, was extracted mainly from Locus Online's Index to Science Fiction Awards.

The awards summarized below are as follows:

The Hugo Awards are the premier awards in the Science Fiction field, given annually for almost 50 years in over a dozen categories, including best books, stories, dramatic works, professional and fan activities. The rocketship-shaped trophies represent the committed fan and professional SF community, voters with paid memberships to the annual World Science Fiction Conventions.

The Nebula Awards are the Oscars of the SF/F field, awards presented by professionals to professionals. They were created in the mid-1960s, by the newly formed Science Fiction Writers of America.

Members of the Horror Writers Association give the Bram Stoker Awards out each year. Categories summarized here include Best Novel and Best Novel by a New Author.

The John W. Campbell Memorial Award (not to be confused with the John W. Campbell Award for Best New Writer) is awarded each year to the best SF novel published in the US. A panel of judges selects the award.

The World Fantasy Awards are nominated by members of the World Fantasy Convention and selected by a panel of judges to acknowledge excellence in fantasy writing and art.

The Arthur C. Clarke Award is a juried award, sponsored by Arthur C. Clarke (author of 2001: A Space Odyssey, Childhood's End, and other seminal works). It is given to the best SF novel published each year in the UK (not necessarily by a British writer).

Using the awards lists as a research tool is very much an art. The only rule is that there are no rules. General observations may be drawn; but the more general the observation, the more exceptions may be found. Awards, particularly ones like the Stoker Best Novel by a New Author, can be very useful in helping to identify up-and-coming authors. Be aware of authors who win (or are nominated for) a major award after publishing a few over-looked novels. The earlier novels often undergo a dramatic increase in value, particularly if they were printed in small numbers. Look at foreign award lists, particularly those in the UK. The past few years have seen numerous examples of UK titles that have exploded in the US market - think JK Rowling, Philip Pullman, China Mieville, Jasper Fforde, and Eoin Colfer. Advance warning of the "next big thing" from the UK and the simplicity of overseas book buying can combine to yield substantial profits.

<! col. two ends> <! space>