<! col one starts>
<! col one ends> <!space>
<! col two starts>



<!spacer>

Building a Bookselling Reference Library

by Craig Stark

#27, 20 September 2004
Part II: Talking the Bookselling Talk
How important is vocabulary to a bookseller? Well, if it isn't important, neither is knowledge because knowledge lives and breathes in words, is driven home by them. IQ tests invariably include vocabulary questions because there's a strong, almost direct relationship between the size of one's vocabulary and intelligence. The more words you know, that is, the higher your IQ. There was a time when this didn't make sense to me - I mean, if you had a small vocabulary, did this mean that you could take deliberate steps to enlarge it and thereby raise your IQ? Surely not. Intelligence is something we're born with, right? We either have it or we don't?
Not exactly. What we're born with is potential. Sometimes it's realized (to some extent); sometimes not. It's never entirely realized. There are many concepts that are impossible to grasp if you don't understand the meanings of the critical words used to express them. This is why things are so often difficult to explain to small children. It's not that they necessarily don't have the capacity to understand difficult concepts. The problem, more often, is that they simply haven't acquired the necessary vocabulary.
Speaking of potential, booksellers are no different. When you first become a bookseller, it's all you have. Part of becoming a good bookseller - realizing this potential - is mastering the applicable terminology. Some sellers dismiss this. The thinking is, well, as long as I can write a description of a book's condition in plain English, what's to stop me from succeeding? I don't need to understand or use technical terminology. Esoteric terms put a lot of buyers off anyway. The only knowledge I'll need to get good at this is a growing knowledge of which books have value and which don't.
The problem with this thinking is that it's as wrong as the day is long. The smaller your bookselling vocabulary is, the less successful you'll be as a bookseller - the less money you'll make. If this statement seems bold, consider the following 15 terms:
ARC
Binding copy
Blind stamp
Colophon
First thus
Frontis
Gutter
Lam
Marginalia
Pirate
Proof
Remainder mark
State
Stub
Unopened

If you don't know what these terms mean, sooner or later it's going to cost you real money. I guarantee it. This cost may be borne by not recognizing the value of something you see at a sale; it may be borne by misrepresenting a book to a buyer, by neglecting to point out a book's assets; it may be borne by any number of means, even subtly, by way of not being able to grasp broader truths about books as books, which has a trickle-down affect on everything you do. No matter what, it will be borne.
The fix, fortunately, is easy. When you see a term you don't know, look the thing up. If you consciously do this over a period of months, your bookselling IQ will soar, almost magically, and you'll discover yourself using these terms in your own descriptions. Not all book terminology appears in conventional dictionaries; or, if a given term does, it may not be couched in a context that makes it understandable or addressed in sufficient detail. What's needed is a specialty dictionary, preferably several of them because no one dictionary does it all. Here are the best two I know (and a bonus):
Encyclopedia of the Book. Geoffrey Ashall Glaister. Oak Knoll Press. New Castle, Delaware. 2001. ISBN: 1884718140 (paperback). 551 pp.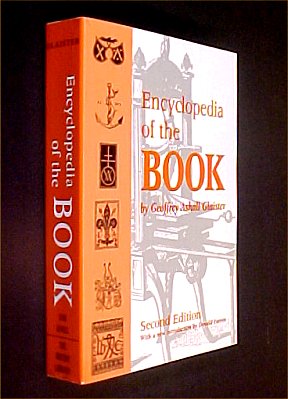 If there's such a thing as a standard reference guide to the book, this is it. First published in 1960 and revised and updated in 1979, Encyclopedia of the Book is massive, comprehensive and authoritative. Whether you need a definition for an obscure bibliographic term or a detailed, in-depth explanation of a more common term, chances are you'll find it here. Includes 100's of illustrations and over 3,000 detailed definitions of terms used in bookbinding, printing, papermaking and the book trade as well as biographical details of printers, authors, bookbinders and bibliophiles. Also included are articles on machinery and equipment, famous books, printing societies, book-related organizations, customs of the trade and, whew, more. You should be able to find this for $30 to $35, and it's money expertly spent.
ABC for Book Collectors. John Carter. Oak Knoll Press. New Castle, Delaware. 2002. ISBN: 1884718051 (hardback). 224 pp.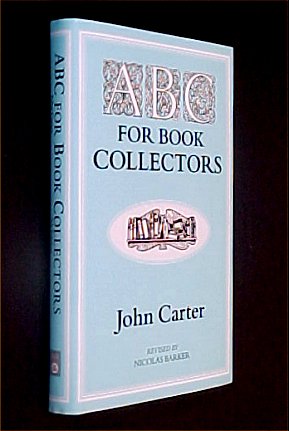 A personal favorite. If you're a fan of Fowler's classic Modern English Usage, you will surely appreciate Carter's masterful, similarly formatted treatment of book collecting. This is a rare instance when a book can be appreciated not only for its content, which is so solid and insightful that it's stood strong for over 50 years, but also read simply for the joy of being in the presence of the author. The encyclopedic format allows you to open the book at any point, enjoy a few moments, and put it down for another day. Delightful features include the use of bracketed explanatory notes placed strategically to illustrate the parts of a book - e.g., "This is the FREE ENDPAPER," "Above is a BLURB," and the presumably tongue-in-cheek "PRINTER'S BLANK" printed at the bottom of a totally blank page. Note that there's little overlap between this book and the encyclopedia discussed above. The focus here is on book collecting, and many elusive terms pertaining to edition state, book anatomy and condition faults are explained clearly and in great depth. If bookselling terminology isn't your strong suit, this will bring you up to speed as quickly as anything can. Usually available at $15 to $20.
Dealer's Thesaurus: 6,000 Ways to Describe Books and Historical Paper. Lynn Vigeant. Privately printed. Maps of Antiquity, Inc. Montclair, New Jersey. 1993.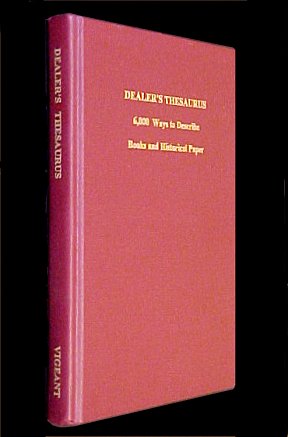 Now and again, it's still possible to bump into an obscure treasure. I wasn't even aware that this book existed until last year, and I only wish I'd had it when I first started selling books. If you've ever had trouble describing the parts of a book, its condition, its contents, its author - anything and everything having to do with writing a book description - chances are that one or more suggestions are here. There are 100's of book categories - binding, color, content, edition, faults, illustrations, points, repairs, etc. - 1,000's of descriptive phrases, also sections on describing prints and maps, and even an occasional humorous turn. This phrase, for example, is listed as a suggestion under binding faults: "some moron used tape to secure the front cover." To the best of my knowledge, Dealer's Thesaurus is currently OOP, but a limited number of used copies are available online for under $30. Act quickly.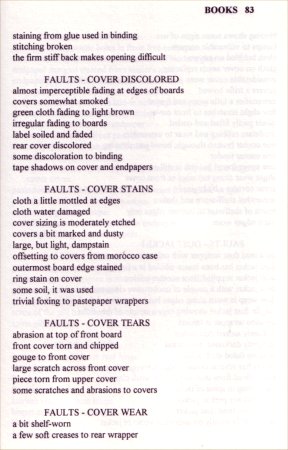 <! col. two ends> <! space>
<! col. three begins>


<! button for rotating ads starts here>

<! col. three ends>