<!spacer>

Misnamed Books

by Craig Stark

#26, 13 September 2004
An Interview with Allen and Pat Ahearn
As noted in the August 16 BookThinker, Allen and Pat Ahearn's Collected Books: The Guide to Values is one of the most useful first edition identification guides available to booksellers and collectors. The Ahearn's are longtime booksellers (and collectors) themselves and have devoted decades to researching the information contained in the guide. Collected Books is also a tool for valuation. BookThink recently interviewed the Ahearns about the methods they use for arriving at values and, while we were at it, a few other book-related matters.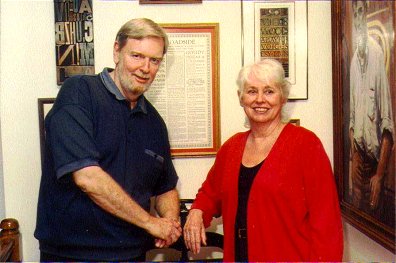 BookThink: Books about books, especially those that focus on narrow topics such as book valuation and first edition identification, rarely (if ever) rise to a level that could be classified as best sellers. Your own Collected Books, however, has become something of a standard in the bookselling field. It's been revised/updated several times and reprinted frequently. Has it been primarily a labor of love, or have you been compensated to some degree for what must have been, over the years, an enormous investment of time and energy?
The Ahearns: Actually it all started out as a hobby because Allen collected Author's first books and put together a small paperwraps book called The Book of First Books that we self published in 1975, '70, '83 and '86. In 1989, Putnam bought the book and published it as Book Collecting, but what they wanted was the old Van Allen Bradley [The Book Collector's Handbook of Values] and so we did Collected Books in 1991. It was a lot of work but we believed it was needed. We made a bit on it although not enough to really make it worthwhile, but with the 1998 edition we made a good amount and that helped us build a new house. With the Internet, the 2002 edition is not selling as well and so it may be our last one. We've been asked to put a revised edition in CD format and we're thinking about that. Having those books published gave us exposure and we've attracted customers, been offered books, and asked to build private collections because of that exposure.
BookThink: On balance, would you say that the Internet has been a positive force for the used book market? Why or why not?
The Ahearns: The Internet has been a positive force. One can look at the number of copies being offered on the Internet and instantly get a feel for the availability of a particular title. A book that sold regularly in booksellers' catalogs for $75-$100 pre-Internet is selling for $25-$50 now because of the number that are available for sale. On the other hand, some books that were scarce we now know are even scarcer than we once thought and prices have therefore risen.
There is an awful lot of bibliographic misinformation on the Internet, some by mistake and some on purpose. In our opinion, it is important for a bookseller to build a reference library in their area of interest. Join local bookselling associations; other members may have the answer you need on a bibliographic question answered. When dealers help each other, it makes all of us stronger.
It is frightening to think that a seller that is offering fraudulent material or in some cases non-existent material can just change their location and get a new name, post office box, and email address and continue merrily on their way until it is time to move again. Think what a difference it makes when a member of your association reports on material that has been purchased from you by credit card and then the person claims a "charge-back" with the credit card company and still has your books. The dealer can instantly alert members if that person tries to buy from them or tries to sell them your books.
BookThink: On a scale of 1 to 10, how heavily do you rely on Internet pricing for arriving at prices for the books listed in your guides?
The Ahearns: We can't give you a 1-10 answer. We've been in business for more than 40 years and use our own knowledge and records, auction records of the major and "medium" houses, dealers' catalogs, and the Internet.
Pricing is an art. You can hold the book to your forehead and guess or you can do your homework. Common books (readily available titles) require less research, and so the Internet is used regularly but not exclusively. Less common books require more research, and we use the Internet and auction records. For scarce or rare books, we use all of the above sources, and if there's still a doubt in our minds, we contact dealers that specialize in that particular area and talk with them about the book.
BookThink: Would you say that the Internet has been responsible for more accurately defining a given book's value?
The Ahearns: Only on common books where there are a number of copies in bad shape without jackets, some in nice condition without jackets, nice copies in worn jackets, nice copies in very good jackets, and fine copies in fine jackets. Then you can define a given book's value.
BookThink: Are there any important distortions?
If there is no copy, the first copy up will probably be at an inflated price.
BookThink: Specifically, where are we most likely to find the most accurate value at any given moment? At auction venues such as eBay?
The Ahearns: We don't go to eBay for pricing.
BookThink: Is this because it's too difficult to gather accurate data?
The Ahearns: The auction houses that we use all stand behind what they are auctioning. eBay does not and what records they have are up for such a short time that we couldn't possibly spend every day following what goes on there nor would we know whether the material was accurately described.
BookThink: What about fixed-price venues?
The Ahearns: Yes. Abebooks.
BookThink: And sales records at Christie's and other major auction houses?
The Ahearns: We subscribe to Christie's, Sotheby's, Swann's, Waverly, and Baltimore Book Auction. Most of the prices realized in a run-of-the mill sale are wholesale. Wealthy collectors want high-spots and tend to bid higher. When there is competition, the prices realized are high. When there is little competition, the price realized may be a steal. In other words, you need to be at the sale to see what is happening.
BookThink: One very noticeable phenomenon of Internet valuation has been the almost obscene escalation of prices realized for a few relatively modern and not terribly uncommon first editions. Apart from scarcity, are there any shared factors that can reliably explain why a few books are so intensely sought after and most others go begging for pennies?
The Ahearns: SUPPLY AND DEMAND. Collectors generally want beautiful copies of the books they want in their collections. If more people want a particular title than there are copies available, the price goes up. If a desirable book is signed and the author is known not to have signed many books, the price goes up. When the price goes up, the dealer also has to pay a higher price to get their next copy and the price again goes up. When a dealer is asking much, much more than other dealers are for similar condition and edition, we always buy the lower priced one.
BookThink: As the Internet has grown, have you made any dramatic changes in your own bookselling practices to compensate?
The Ahearns: Not really. We consider the Internet another venue but we still issue catalogs, build private collections, etc. The Internet has increased our sales, and for that we are grateful. We started using a computer to control our inventory in the early 1980s, so when the Internet came along, it was easy for us to put our inventory on-line.
BookThink: Speaking of Collected Books, for my purposes (and those of many others I know in the business), I use it primarily as a tool for accurate identification of edition state and to a much less significant degree for actual valuation. And yet it seems that this guide is essentially marketed as a valuation tool, not to mention sub-titled as one (The Guide to Values). I' certainly not presuming to be a marketing expert, but wouldn't it make some sense to emphasize the identification aspect as well, given especially that values in many cases change by the moment?
The Ahearns: You are using the book as we intended. We wanted to identify the book's collectible editions. Some of the values go out of date quickly and are put in only to give the user a guideline of how collectible the particular book was when our book was published. It is not meant to be the "one and only price."
The Guide to Values was put on the title by Putnam. They were the publishers of Van Allen Bradley's Gold in Your Attic and The Book Collector's Handbook of Values. When they asked us to do the book, we said we would but we wanted the name changed to just Collected Books. They added the sub-title.
BookThink: Will there be a revised Collected Books coming soon? Any other books?
The Ahearns: Perhaps in 2007.
BookThink: In addition to Collected Books, you've also penned, I believe, 174 Author Price Guides. For the benefit of our readers, would you explain how these differ in content from information contained in Collected Books?
The Ahearns: They are also misnamed. They should be named Detailed Bibliographical Checklists of "A" Items with Estimated Prices (but it was a mouthful).
BookThink: What criteria do you use for selecting authors for this series? Are many more planned? In progress?
The Ahearns: Authors that interest us or our collectors. There are 100 more author guides in draft.
BookThink: How is the work load divided in producing your publications? Do either of you do one thing much better than the other?
The Ahearns: There are six of us that work on the guides and we all do whatever needs doing. No one of us does all the work. Allen has the final say on values but we all do pricing and research with Carl doing the primary bibliographic research and he records catalog and auction prices.
BookThink: Do either of you collect favorite authors?
The Ahearns: We collect signed or inscribed copies of books mainly by authors we know or books we particularly admire.
Any of the Ahearns' misnamed but eminently useful guides may be purchased here.
The following brief biography appears on the Ahearns' website:
We became booksellers in 1962, specializing in first editions, a specialty that continues today. The Quill & Brush (named for our initial focus on books and art) was started in 1976.
Allen's own first book, The Book of First Books, was published in 1975 and revised in 1978, 1983, and 1986. G.P. Putnam's Sons first published a revised and expanded edition of the book as Book Collecting: A Comprehensive Guide in 1989 and, in 1995, published a revised and updated edition with Pat joining as co-author. The newest edition, Book Collecting 2000, is due out November, 1999; advance orders are being taken.
Our Collected Books: The Guide to Values was first published by Putnam in 1991. The latest edition, Collected Books: The Guide to Values, 1998 Edition was released August, 1997.
To date, we have compiled 160 individual Author Price Guides with the able assistance of Carl Hahn and Suzanne Regan.
We have three daughters (Beth, Sue, Dyanne), a son (Allen), and 12 grandchildren.
Allen graduated from the University of Maryland in 1960. From 1960 to 1980 he worked as a contract negotiator for the U.S. Navy and as an advisor on contracts, cost estimating and program management to the Director of Research and Development, Office of the Secretary of Defense. He received his Masters from George Washington University and graduated from the Industrial College of the Armed Forces in 1970. He is the Remington Steele of Q&B. Pat, who runs the entire operation herself, attended Maryland University, and Maryland School of Art and Design.

<! col. two ends> <! space>