<!spacer>

by Timothy Doyle

#25, August 23, 2004
An Interview with Bud Webster
Author of
41 Above the Rest: An Index and Checklist
for the Anthologies of Groff Conklin
| | | |
| --- | --- | --- |
| For anyone who grew up reading science fiction in the 1940's through the 1960's, Groff Conklin should be an instantly recognizable name. A prolific editor of science fiction and fantasy anthologies, Conklin had an influence on the field of SF comparable to such legendary editors as Hugo Gernsback, Horace L. Gold and John W. Campbell. Conklin's first SF anthology was The Best of Science Fiction (NY: Crown 1946), a monster of a book with 40 stories and 785 pages featuring authors such as Heinlein, Simak, Sturgeon, Leinster, Asimov, Boucher, van Vogt and many more. This volume, along with Healy and McComas' Adventures in Time and Space (New York: Random House, 1946), are the definitive collection of SF and fantasy short stories up to the end of World War II. | | |
Over the next 20 years, Conklin would edit more than 40 SF and fantasy anthologies. Due to a prevalent perceived diminution of SF value, these anthologies often ended up in libraries shelved as juveniles. For many a lucky kid, a Conklin anthology was their first introduction to the wide-open universe of science fiction. If you have a memory of a really cool SF short story published in the 1960s or earlier, there is an excellent chance you first read it in a Conklin anthology.
The following is an excerpt from a New York Times obituary published 7/20/1968:
PAWLING, N.Y., July 19 - Groff Conklin, a leading science-fiction anthologist, died today of emphysema in his summer home here. He was 63 years old and lived at 150 West 96th Street in New York.

For the last three years Mr. Conklin was staff science editor for The American Heritage Dictionary of the English Language, which is being prepared for publication next year.

Mr. Conklin edited some 40 anthologies of science fiction. He also wrote books on home improvement and maintenance and had been a freelance writer on scientific and technical subjects. He was book reviewer for Galaxy magazine from 1949 to 1955.

Mr. Conklin was born [on 9/6/1904 - editor] in Glen Ridge, New Jersey and graduated from Columbia University in 1927. He was former book editor for Robert M. McBridge & Co. and did public relations work for the Federal Home Loan Bank, the Office of Strategic Services, the Department of Commerce, the National Cancer Institute, and the American Diabetes Association. He was also a former scientific researcher for N.W. Ayer & Son, the advertising agency.

Mr. Conklin edited The New Republic Anthology in 1936 and The Smart Set Anthology, with Burton Rascoe, in 1934.
Note a subtle expression of anti-genre chauvinism here. The only titles mentioned by name were Conklin's non-SF anthologies, published over 30 years before his death.
Just in time to celebrate Groff Conklin's 100th birthday, author Bud Webster's 41 Above the Rest: An Index and Checklist for the Anthologies of Groff Conklin is being published by Wildside/Borgo Press. 41 Above the Rest will include a complete bibliography of Conklin's SF and fantasy hardback and paperback anthologies, including references to foreign reprints, and an index of stories that appear in each anthology. There are also plans for release of a CD-ROM with images of the Conklin anthologies.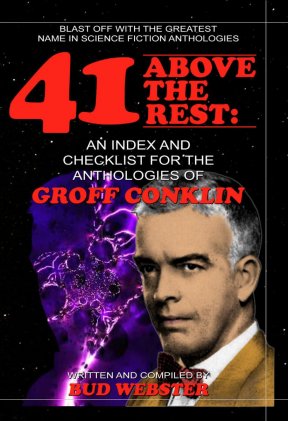 Bud Webster published his first SF story, "Bubba Pritchert and the Space Aliens," in Analog in 1994, subsequently winning the magazine's Analytical Laboratory award for Best Short Story. Two years later "The Three Labors of Bubba" won Analog's Analytical Laboratory award for Best Novelette. His narrative SF hobo poem, "The Ballad of Kansas McGriff," took first place in the National Hobo Association's Music and Poetry Festival in 2000. He's also written non-fiction extensively, including essays in The New York Review of Science Fiction, Gale's Supernatural Fiction Writers, and five "Curiosities" pieces for The Magazine of Fantasy & Science Fiction. His bibliography, 41 Above the Rest: An Index and Checklist for the Anthologies of Groff Conklin, the first in-depth examination of one of the most important anthologists of the post-war decades, is due out from Borgo Press momentarily. He lives in Richmond, Virginia, with "a very patient Significant Other and two neurotic cats. But aren't they all?"
BookThink: What is it about Groff Conklin that drew you to this project?
Webster: Oh, that's easy. By far, Groff Conklin's anthologies were the ones that gave me the most sense of wonder when I was a kid. I read the other ones in the library too, of course, but his were the ones I kept coming back to over and over, and the ones I kept pushing at my friends.
He had a fascinating name too, and that's something a lot of kids would respond to - I mean, "Groff." That's a pretty unique and exotic name for a nine year-old kid to come across, and that's one of the things that piqued my curiosity enough to pull The Best of SF off the shelf the first time. Not only that, but I took comfort that there was somebody out there with a weirder name than mine. If you've ever been teased about your name, you know what I'm talking about.
BookThink: Groff Conklin seems to hold a special place in a lot of SF fans' memories. Are there any stories you can share from people you met while researching the bibliography?
Webster: Yeah, mostly along the lines of getting excited all over again about a story we read in SF Galaxy or one of the other books when we were still kids. There have been a lot of those kinds of "Oh, YEAH!" moments.
There have been a number of times when I've mentioned Conklin titles to someone and it turned out to be one they'd never heard of, or they express surprise that he did as many as he did. Mostly, it's a shared nostalgia for the very first time we read that particular Sturgeon story, or this Leinster yarn.
BookThink: It's been said that compiling a bibliography and book collecting are similar in many ways. Would you agree with this, and in what ways do they differ?
Webster: I don't know that I'd say they were similar, but I can tell you that any serious collector of anything eventually has to become a list-maker. You have to know which Beanie-Babies you have before you lay out another $100, so you make a list in some kind of order so that you can tell at a glance if you have the octopus or the skunk, so you don't duplicate and try your spouse's patience past the breaking point.
My initial purpose in indexing the Conklin books was, first and foremost, so that I could tell what I already had and what I didn't (remember baseball cards when you were ten? "Got it, got it, need it, got it..."), and secondarily (but pretty close) which books had which stories in them. Questions get asked on UseNet, you know, about where some old story somebody read when they were 12 was published, and I figured this would give me a handy way to answer those questions accurately.
But absolutely book collecting and bibliography go together. It's almost inevitable past a certain point. You have to have a simple way to keep track, and computers have made this so easy I'm amazed more people haven't done so. If you're lucky, you're serious enough about it that you do it right, and when I got to that point I realized that what I had was something publishable.
BookThink: Was it difficult finding a publisher for a rather specialized work like this?
Webster: Yes and no. I was always prepared to self-publish, in the grand tradition of the early fan bibliographers, but that has its own set of headaches. There were several small presses I approached, all of whom expressed interest, but the CD-ROM was always the deal-breaker. With Borgo Press, this shouldn't be a problem. When Wildside announced they'd bought Borgo Press, I pitched the book to them and they swang at it real good.
BookThink: Which titles might be the most difficult to find for a completist collector? What Conklin titles do you have in your collection that you most value?
Webster: Very few of the paperbacks are at all scarce, although I've only seen one or two copies of the first Belmont printing of Twisted (1962). I'm just talking about the US issues here, since I've never even seen the Japanese or Spanish editions. In the Grip Of Terror (1951) is tough to find in nice condition. I don't own a copy of the mystery anthology, Great Detective Stories About Doctors (1965) because it comes up for sale so seldom, but that's the last US paperback first I need.
In hardcovers, well, that's different. The two scarcest in my experience are Possible Worlds of SF (1951) and the Gnome Press SF Terror Tales (1955). I had a decent but jacketless copy of Possible Worlds and recently was able to find a nice original jacket for it, so that problem is solved. SF Terror Tales is considered to be the rarest Gnome title, but much of the scarcity is because the primary market for the hardcovers was always the libraries. Over the years, jackets were lost, the books themselves re-bound, an eventually discarded or stored. So although I have a near-fine copy of the book in first edition, I don't have the jacket. Don't know if I'll turn one of those up like I did for the other one. So really, any of the hardcovers with jackets and without library markings are pretty desirable.
The book I value the most was one I got recently on eBay - a signed copy of the first printing of Belmont L92-535, Twisted, that came from Donald Wandrei's collection [Donald Wandrei: SF and supernatural fiction author, best known as co-founder with August Derleth of Arkham House press - editor]. Conklin didn't sign many books, so any of them are desirable, but the added connection with Wandrei and the fact that I didn't already own a copy of the first printing made this one a necessity. I told Mary I had bid on it, and rather timidly told her my upper limit, and she advised me strongly to go higher. I did so, and I won because of it. Let me tell you, the most important thing for a collector to have is an understanding partner. You can always build bookshelves out of cinderblocks and boards, but a patient Significant Other is a treasure beyond calculation.
BookThink: On July 20, 1969, The New York Times ran an obituary of Groff Conklin, with the heading: "Groff Conklin, 63, An Anthologist". Do you think Conklin would have liked this simple summary of his life?
Webster: I think so. He was a pretty unassuming man, from all reports. I think he might have been a little disappointed if the body of the text hadn't mentioned that he had been a poet and also a respected authority on home construction, but the bulk of his career was spent anthologizing in one area or another.
BookThink: Do you have any plans to expand the bibliography to Conklin's non-SF anthologies?
Webster: They're mentioned in the appendices, but I didn't index them as such because your average Conklin collector (are there more than three of us?) is less interested in Smart Set and The New Republic than he is in the SF and fantasy titles. If the book does well enough and gets enough attention, I may very well expand the appropriate appendix to list the contents, but we'll have to see.
BookThink: In addition to compiling the Conklin bibliography, you are also a published SF author. What are you currently working on, and do you have anything coming out soon?
Webster: I've just had one of my best stories come out in Brett Cox and Andy Duncan's Crossroads: Tales of the Southern Literary Fantastic (Tor 2004). The story is one I found very difficult to sell, primarily because it features Jesus as the viewpoint character and is, even by my own very liberal views, blasphemous at the very least. A friend of mine described it as the bastard child of Flannery O'Conner and John W. Campbell. The story is titled "Christus Destitutus," and it's going to be interesting to see how it's received. I'm in really, really good company - Gene Wolfe, Jim Sallis, John Kessel, Michael Bishop, Michael Swanwick, and a bunch of other worthy writers are in there too. I stand to gain a lot more from my proximity to them than they do from being in a book with me, I can tell you that.
Other than that, I've got a column or two coming up in Chronicle under the umbrella name of "Anthopology 101," and I've just turned in a booklet on hobby bookselling to SRM Publisher, Steve Miller and Sharon Lee's press. That should be ready by WorldCon, I hope. There was a third Bubba Pritchert yarn in the July-August 2003 Analog, and I've got several other stories (including another one about Bubba) gathering dust until I get some of these non-fiction assignments out of the way. And I'm working on another "Anthopology 101" article about the Zacherley books published by Ballantine back in 1960. I was able to speak to Betty Ballantine and Bernard Shir-Cliff, and that was a real privilege, believe me.
In Conclusion
Conklin never denied that SF could serve as escapist fare, or that "even top-grade science fiction is primarily entertainment" (from the introduction to The Omnibus of Science Fiction; New York: Crown, 1952). But of the writers collected in his paperback anthology Five-Odd (New York: Pyramid Books R-1056, 1964) Conklin writes "As I have said many times in the past, the real reason these creators hold our attention is because they have something to say to us ... not just because they entertain." Entertain the readers, but at the same time challenge their preconceptions, skew their worldview, and broaden their horizons. Conklin might as well have been speaking of his own anthologies when he goes on to say, "They give us to think, as well as to enjoy."

<! col. two ends> <! space>