<! col one starts>
<! col one ends> <!space>
<! col two starts>



<!spacer>

by Timothy Doyle

#25, August 23, 2004
The SF Short Story Anthologies
of Groff Conklin
Collecting the Collector
| | | |
| --- | --- | --- |
| From its earliest days, the primary vehicle for delivering SF to readers has been magazines. Stories that we would today classify as SF appeared in such pre-genre publications as The Argosy, Blue Book Magazine, and even science magazines like Modern Electrics. So-called "science fiction pulp magazines" began with Henneberger and Lassinger's Weird Tales (1923) and Hugo Gernsback's Amazing Stories (1926) and continued through the mid-1950's with such titles as Wonder Stories, Air Wonder Stories, and Thrilling Wonder Stories; Astounding Stories, Astonishing Stories, Thrilling Stories, Planet Stories and Startling Stories; and Super Science Stories and Marvel Science Stories - to name, literally, just a few. | | |
Interestingly, Amazing Stories is poised for (yet another) incarnation, when it resumes publishing in September 2004. Publications such as Anthony Boucher and Francis McComas's Fantasy and Science Fiction (1949) and Horace L Gold's Galaxy Science Fiction (1950) are considered to be the first of the post-pulp SF magazines. They were printed in digest format on better quality paper, with design and content intended for the increasingly mature and sophisticated SF audience that grew out of the Golden Age of SF - a term most often associated with Astounding Stories/Astounding Science-Fiction under the editorship of John W. Campbell, beginning in 1937. Speaking of the Golden Age, in the Encyclopedia of Science Fiction Peter Nicholls makes note of the unattributed cynical comment that "The Golden Age of SF is 14."
In all, these magazines were responsible for publishing thousands of authors with tens of thousands of short stories, novellas, and serialized novels. Many of the classic novels of SF originated as short stories in magazines. A.E. van Vogt used the term "fixup" to refer to collecting more or less loosely related series of short stories into a novel, typically with additional material written to meld the original shorter elements into the larger whole. Examples include Ray Bradbury's The Martian Chronicles, Isaac Asimov's Foundation trilogy, and Theodore Sturgeon's More Than Human. Additionally, an author would sometimes take a short story and extend it into a full-length novel, using the bigger stage of the novel to develop the themes and characters perhaps only hinted at in the original story. Orson Scott Card's Ender's Game started life as a novella published in Analog in 1977.
The anthology is a hallowed tradition in SF publishing dating back to the 1940's and, essentially, grew directly out of the pulp magazines. SF anthologies of the time almost exclusively reprinted stories that had previously appeared in magazines, although many early anthologies reprinted classic proto-SF and horror stories from pre-genre authors such as Arthur Conan Doyle and Edgar Allan Poe. The early SF anthologies owed their success to several factors, including the presence of recognized and respected non-genre authors (as noted above); the more respectable nature and durability of their hardback format; and their distribution to the libraries.
Two of the earliest pure SF anthologies were both published in 1946 - Raymond J. Healy and J. Francis McComas's Adventures in Time and Space (New York: Random House, 1946; $20 - $30) with 35 stories and 997 pages and Groff Conklin's The Best of Science Fiction (New York: Crown, 1946; $25 - $35) with 40 stories and 785 pages. Conklin would go on to edit more than 40 SF anthologies over the next 20 years, and his work would have a profound influence on the developing genre. A prolific editor, Conklin also wrote book reviews for Galaxy magazine from 1950 through 1955. He is pictured below with some of science fiction's biggest names in this Galaxy October 1952 cover illustration.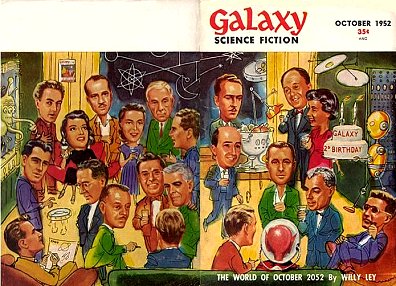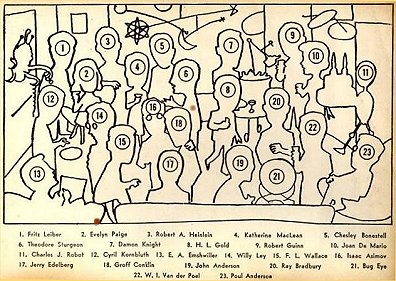 There are several factors to consider when establishing the relative value of Conklin anthologies. Many of the paperback anthologies are reprints of earlier hardback editions, and typically stories were cut for the slimmer paperback format. These paperbacks are of little value except as reading copies or for the hardcore completist, although the cover art on some of the paperbacks is more interesting than on the hardbacks (see the hardback and paperback copies of Science Fiction Thinking Machines below). However, grouped lots of 3 to 4 or more paperbacks in very good to fine condition would probably do well on eBay.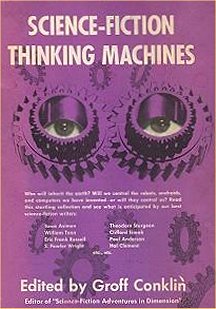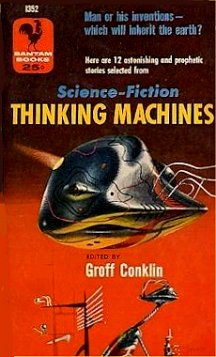 A number of the Conklin anthologies were paperback originals, and as a result carry somewhat more value. While none of these paperbacks are especially rare, Bud Webster (author of 41 Above the Rest: An Index and Checklist for the Anthologies of Groff Conklin and long-time Conklin collector) notes that the first printing of Twisted (New York: Belmont Books, 1962; approximately $10) is one of the more difficult titles to find, especially in collector's grade condition. Note that there are two printings of Twisted with identical cover art. The first printing carries the code L92-535 above the price on the front corner, while the second printing has the code B50-771 (the image shown here is of the second printing).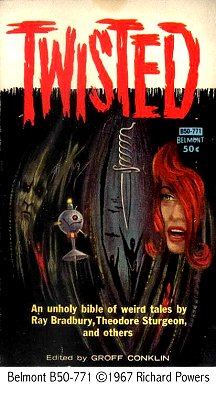 Hardback editions of Conklin's anthologies vary in value based on the usual factors of scarcity, condition, and demand. Before going into specifics, there is one general note worth making. Dust jackets for the hardback copies of the anthologies prior to 1960 seem to be slightly scarcer than usual for books of the period, possibly due to the more than average wear and tear a popular anthology would receive over time. I know that, as a reader, I'll often pull an anthology off the shelf just to re-read a story or two, whereas I own plenty of novels that I have only read once. What this means to the seller is that copies without jackets hold their value a little better, and copies with jackets command a bit more of a premium in price. Large numbers of Conklin's hardbacks ended up in libraries, and it is possible that a decent dust jacket might be salvaged from an ex-lib copy and married to an else-fine copy with no jacket.
The most sought after Conklin hardback is probably Science Fiction Terror Tales (New York: Gnome Press, 1955). Gnome Press was a small but highly influential publishing house established in 1948 by Martin Greenberg and David A Kyle. Some of the most prized first editions in SF collecting are Gnome Press titles, including Asimov's Foundation novels and I, Robot; Clifford Simak's City; and Arthur C. Clarke's Against the Fall of Night. While not rising to the same level of value as these, it is generally acknowledged that Science Fiction Terror Tales is the least common Gnome Press title. For a decent copy in a dust jacket, I would expect at least $200 to $250. Copies available online range as high as $600 to $700. Without a dust jacket, perhaps $100 to $150.
The following is a partial list of other Conklin hardbacks published prior to 1960. Note that prices assume book and dust jacket (if issued) in VG (very good) or better condition.
Possible Worlds of Science Fiction (New York: Vanguard Press, 1951; $50). Classic stories reprinted mostly from the pulps by such authors as Bradbury, Asimov, Clarke, Heinlein and Simak.

Invaders of Earth (New York: Vanguard Press, 1952; $50). A good example of the themed anthologies that Conklin was so good at, this is a collection of stories about alien invasion of the Earth, including the complete transcript of Orson Welles' "Invasion from Mars" broadcast.

The Supernatural Reader (Philadelphia: Lippincott, 1953; $15 - $20). Co-edited with his wife, Lucy Conklin. Though it has been said that Lucy was very much a partner in many of Groff Conklin's anthologies up until her death in 1954, this is the only one with which she is credited.

Science Fiction Thinking Machines (New York: Vanguard Press, 1954; $25 - $35). (See photo above.) Another themed anthology, this one on what we now call artificial intelligence. Features Karel Capek's "R.U.R." (credited with originating the term "robot") and the first book appearance of Isaac Asimov's "Robbie".

Also, two non-SF anthologies:

The Smart Set Anthology (New York; Reynal & Hitchcock, 1934; $100+). Co-edited with Burton Rascoe.

The New Republic Anthology: 1915-1935 (New York: Dodge Publishing, 1936; $45).
Sellers Tip: Groff Conklin apparently did not sign many books in his career, as they rarely come up for sale. At the time of this writing, there are no signed Groff Conklin books available at www.abebooks.com. Assuming very good or better condition, a signed paperback should sell for at least $25 to $50, possibly more depending on title and condition. Signed hardbacks, even without dust jackets, should sell for at least $50 to $75, and possibly quite a bit more for some titles or if a dust jacket is present. Of course, my estimate of prices is in fact little more than a guess since I have seen less than a handful of signed copies offered and sold. By the way, if you come across an interesting SF anthology it might be worth your while to check out the first page of each story, as authors will often sign at their story rather than on the book's title page.

<! col. two ends> <! space>
<! col. three begins>







<! col. three ends>