<!spacer>

Collecting Mystery & Detective Fiction

by Pamela Palmer

#24, 2 August 2004
The Mystery of the Collectible Nancy Drew
If you spent time wanting a roadster or a friend named Bess, you likely know the personal side of Nancy Drew. Her adventures have brought mystery into the lives of young women since 1930. But if discussion of blue tweed, Farah, and Axe rivets your attention, you're acquainted with the financial side of Nancy. It's the timeless combination of intrigue, triumphant youth, and financial value that makes the series a perennial hit with book buyers and sellers. From both perspectives, Nancy is unique. Since the beginning, she's had it - that indefinable element of mystery when the lady is not quite what she seems - and neither is her author.
Over the years the Stratemeyer Syndicate's secrets have become public, so only the youngest readers now believe that Carolyn Keene is a person. Books such as Rediscovering Nancy Drew (Dyer and Romalov, eds., 1995) and Edward Stratemeyer and the Stratemeyer Syndicate (Johnson, 1993) discuss the firm's practice of using various authors to write under the Keene name. The best known of these are Mildred Anderson Wirt Benson, Harriet S. Adams, and Nancy Axelrad.
Nancy Drew herself has changed with the times. After remaining the same for the first three decades, she had a makeover in the late 1950s when Harriet Adams rewrote earlier books to eliminate racial/ethnic stereotypes and to update her character. Even bigger changes occurred in the late 1980s when the sleuth turned feminist in the Nancy Drew Files series, and she continues to evolve in more recent works.
Still, it's not authorship or character development that drives the price of Nancy Drew books today; it's the points. For the serious collector and bookseller, knowing and interpreting them is essential for consistent success. And identifying the winners can call for detective skills worthy of Nancy herself.
Values & Points
American Book Prices Current for 2002-2003 shows some high-end values. Nancy's Mysterious Letter (1930) sold for $600. It was "1st Ed. In 1st State DJ with wear, lacking most of spine ..."(p. 579). Three other Nancy Drew books sold in the $240-300 range and another at $160. All were 1st Ed, 1st state with similar dust jacket conditions.
These prices are close to recent sale prices on eBay. Between July 1 and 27, 2004, the highest price for a single Nancy Drew book was $395. The Secret of Red Gate Farm is described as a second printing with dust jacket. Special features include "glossy frontispiece and additional 3 internals ... blank endpaper format." Both book and DJ are described as good to good+ condition. The auction had 7 bids and started at $300.
Next highest prices went for "Nancy Drew Secret of the Old Clock True 1st Edition," sold for $304.99 with 13 bids, and "The Bungalow Mystery Nancy Drew HC DJ 1st UK Harold Hil" selling for $295 with 1 bid.
Serious collectors and sellers require detailed information to judge the volumes. When the seller of The Secret of Red Gate Farm designed the auction, he or she cited the top source to pinpoint the book's significance, writing "Book matches points of 2nd printing per Farah's Guide."
Farah's Guide is the bible for Nancy Drew information. Compiled by attorney/physician David A. Farah, the meticulously researched guide is now in its 11th printing. Finding a copy at your local library is unlikely, and BookFinder lists only one copy online, a 10th printing for $125. To buy a copy of the latest edition, head to eBay where davidf26zzr regularly lists a copy for $85. Though older printings occasionally are available, the latest is the right choice.
Using Farah's Guide to grade a copy of The Sign of the Twisted Candles involved several steps to determine the print run-printing date, suggested price for book with and without DJ, and format. These included noting the latest titles listed on front flap, back flap, back cover, and other points. (Did you know there are ten endpaper variations in the series?) In the end, the 1930 copyright blue tweed volume with good DJ proved to date from 1959. It's a Farah 1959B-61 and not a winner after all.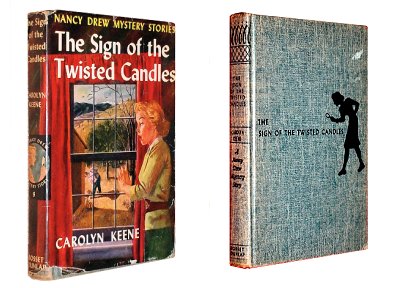 If you crave more discussion than detail about points, try the chapters on Nancy Drew in John Axe's All About Collecting Girls' Series Books (2002) and Boys' & Girls' Book Series: Real World Adventures Identification & Values by Diane McClure Jones and Rosemary Jones (2002). Axe includes a brief history of the series with emphasis on the classics from 1930-1979. Jones and Jones list the titles in date order, indicating revised and unrevised titles.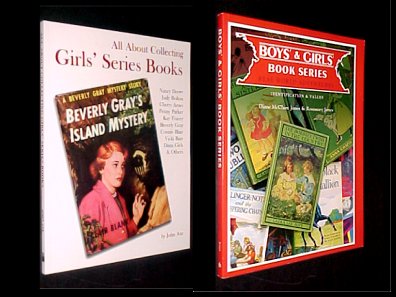 Nancy Drew Sleuth is a web site well worth exploring. Frequently updated, it is an excellent introduction to the series with enough depth to keep you looking for hours. Another useful online source is about.com's "Book Collecting - Nancy Drew Girl Detective"
If you hanker to understand the practices of the Stratemeyer Syndicate, see the online articles by James D. Keeline. They include "Stratemeyer Syndicate," covering how the syndicate developed its strategy of multiple authors, and "Who Wrote Nancy Drew," featuring the intricacies of who outlined vs. who wrote what based on revelations of the 1980 lawsuit that pitted Grosset & Dunlap against the Stratemeyer Syndicate and Simon & Schuster.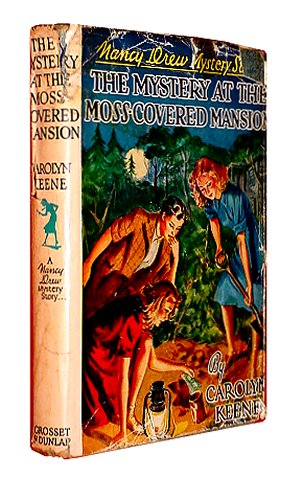 Listing Pointers
Both novices and experts list and buy vintage Nancy Drews. Some ignore points completely and manage to succeed in spite of themselves. The consistent winners, though, are those who do their homework.

Targeting the knowledgeable Nancy Drew buyer on eBay is best accomplished by using several clear photos showing the cover, dust jacket, and points that indicate special value. For some books, that means photographing or scanning the flaps or back cover because differentiating between the mundane and the valuable can be a matter of which Vicki Barr, Dana Girls, or Cherry Ames books are listed there.

Remember that every Nancy Drew title appeared in multiple editions and printings, ranging from impressive to throw-away, so make sure your auction title is worthy of your book. The top selling auction listing in July, for example, is titled "Nancy Drew 'Secret Red Gate Farm' blank Eps DJ 2nd." Terms such as vintage, tweed, DJ, blue silhouette endpapers, 1930s, white spine, and internal glossies (or internals) are other useful terms. Citing Farah's key indicators positions a seller advantageously. But don't neglect a textual description as well. The more detail, the better because the fans can't get enough.

Nancy's father put it best at the end of The Secret of Red Gate Farm -

Mr. Drew laughed. "Nancy," he said, "as I think of your adventures at Red Gate Farm I can't decide whether you're better as a detective or as a promoter!"

And neither can we.

<! col. two ends> <! space>