<! col one starts>
<! col one ends> <!space>
<! col two starts>



<!spacer>

BookThink's Scanning Jig

by Craig Stark

#23, 19 July, 2004
How to Make It
As a rule, I like to keep things simple, and this jig, which I designed for scanning text and illustrations in books that otherwise might be damaged by flattening on a scanner bed, is alarmingly simple, even by my standards. Still, I've used it for most of this year, and it works great with almost all softcover books and many hardcovers that otherwise would be difficult to get good interior scans of.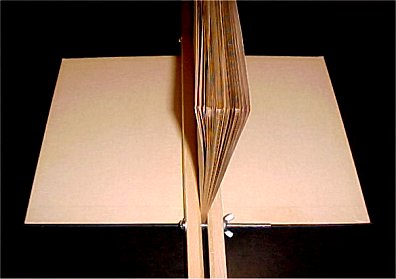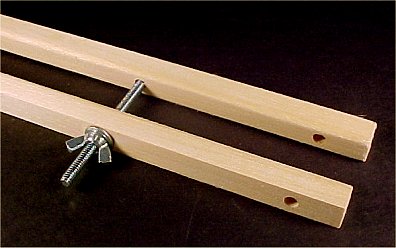 If you'd like to make one, here's what you'll need:
(2) hardwood blanks @ 18" x ½" x ½"
(4) #10-24 3" machine screws
(4) #10-24 wing nuts
(4) #10 flat washers
Hardwood blanks can usually be found near or next to dowels in your local home improvement center and most often come in 36" lengths - that is, cut one in half, and you're in business. After some experimentation, I settled on the ½" dimension because it both allows for clamping fairly close to the book's gutter and yet isn't so thin as to have insufficient strength to freeze the text block. If you're making your own blanks, I wouldn't recommend using softwood (pine, etc.) because of reduced strength. 4" long or longer screws could be used in place of 3" screws but probably won't buy you much. Books over two inches thick are typically very difficult to flatten under any circumstances, jig or no jig. Also, slightly different diameter screws could be used, but keep in mind that larger holes also reduce the strength of the blanks in much the same way the large holes drilled by plumbers in joists contribute to sagging floors.
Construction of the jig borders on the ridiculously simple. Drill four 7/16" diameter centered holes on each blank, ¾" and 4" in from each end. This configuration seems to accommodate the vast majority of books, and probably 90% of these will fit inside the two interior holes. Next, the edges of the blanks which come into contact with the book must be eased to prevent leaving footprints, indentations, etc. on the book. I used a router fitted with an eighth-inch roundover bit, but certainly coarse sandpaper could be used as well. If you'd like additional protection, strips of felt or other soft materials could be affixed to the contact sides of the blanks.
Buy It Instead
Don't like getting your hands dirty? Completed jigs are available from BookThink for $14.99. [Note: The scanning jig is not longer available.]
How to Use It
If you're scanning a hardcover book, position the jaws of the clamp inside the front and back boards and snug them against the hinges. Start with light clamping pressure. A good rule of thumb is to tighten the clamp just beyond the point at which the jaws begin to flex. Tighten further only if you notice some slippage. If pressure becomes significant, use cork pads (supplied with BookThink's jig) between the jaws and the text block at each edge of the text block to prevent damage. When placing the book on the scanner bed, apply only enough pressure to press the text or illustration being scanned against the glass. If you sense that too much stress is being applied, stop.
Softcover books can be scanned the same way. However, in many circumstances it's also possible to lock the clamp in position outside the book. This enables you to clamp and subsequently scan much closer to the gutter and capture images that would otherwise be hidden in deep, dark gutters. Be careful not to damage the covers of the book when pressing them against the scanner bed. With experience, you'll develop a feel for the types of paper, card stock, etc., that can be handled safely with this method.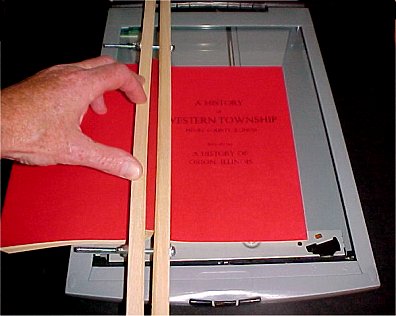 Very important: experiment on worthless books first. It takes some practice to learn proper clamping pressure, also to know how much pressure can be safely applied during the scanning process. Be especially cautious of paper that seems brittle or fragile.

<! col. two ends> <! space>
<! col. three begins>



<! button for rotating ads starts here>

<! col. three ends>