<!spacer>

AB Bookman Redux

by Craig Stark

#18, May 10, 2004
A New Kid in Old Clothes
AB Bookman's Weekly, for decades the torch bearer of the antiquarian and specialist book trade, quietly published its last issue in late 1999, so quietly, in fact, that subscribers weren't informed. Booksellers mourned the loss, in part because it signaled the end - or at least the beginning of the end - of an era. Almost simultaneously, online bookselling exploded from the blocks at a speed which quickly outpaced traditional bookselling, giving birth to what has now become a chaotic dust storm of teeming, flea-market-like swaps of bucks for books. Pre-Internet booksellers have had to adapt or die, and adapting has often meant closing open shops and selling exclusively at online venues. What's worse, no champion of traditional bookselling values has stepped up to fill the void left by AB Bookman.
Perhaps nowhere does this dust storm rage with more fury today than eBay. For every serious bookseller who knows books, there are 100's of eBay sellers who know little or nothing and express their ignorance daily in endlessly interesting forms. The good news is that many books that were once difficult to find are now readily available, often at bargain prices. The bad news is that book collectors who come to eBay are forced to shop in a minefield of misinformation. The data necessary to authenticate collectible books is frequently missing from auction descriptions or plainly inaccurate, and no standards are in place to remedy this. Given the nature of the monster, it seems fatuous to expect that there ever will be.
What this situation has created, of course, is a need, one acutely felt by some, especially those who have been adversely affected by the recent category rollbacks. At present, eBay is essentially the only auction game in town. Other auction venues exist but simply don't drive the traffic to get the job done. To some extent, fixed-price venues which specialize in antiquarian and collectible books give collectors an opportunity to purchase the real thing, but no viable alternative auction venue exists which holds its sellers to AB-Bookman-level standards.
Enter Rick Russell. A Tempe, Arizona, resident, long-time bookseller, and author of Antique Trader Book Collector's Price Guide, Russell recently licensed the AB Bookman name for Internet use, gained rights to its archives in nearby Tucson, and, along with partner Peter Thomas, launched the AB Bookman website.
An online newsletter has begun publication, and a discussion forum and numerous bookselling resources are in place. Best of all, a beta-test launch of an auction venue is looming. If you're wondering if Russell intends to apply AB Bookman standards to bookselling, the answer is yes. BookThink interviewed Rick and Pete last week about the new website.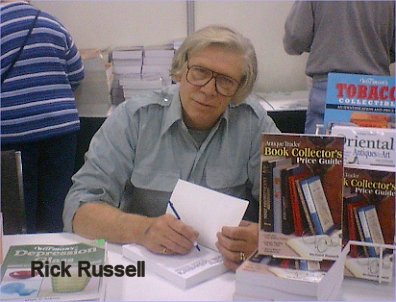 BookThink: Can you tell us something about your background in the book business?

Rick: After failing as a college teacher following graduate school, I spent two years in Europe and returned to New York City. I became fascinated with Fourth Avenue, then Bookseller's Row. Took a job as a night clerk in a hotel in Murray Hill and worked part time along Fourth Avenue, notably as a proof-reader/clerk for Biblo & Tannen, sometimes working at proof reading in the small hours in the hotel. Married and formally incorporated my book business as a scout and mail order seller in September of 1973. Moved to Arizona in 1993, expanding my scouting routes in the Western states with quarterly trips East to service old customers and buy. Put up my first online catalogue in 1994, and started selling on eBay, Abebooks and Amazon in 1996-97.

Pete: After working in bookstore during college, I returned to my hometown of Stillwater, Oklahoma, in 1976 to help my parents open a bookstore. My mother, a children's book librarian who had collected children's books for many years, decided she wanted to retire from teaching Library Science at Oklahoma State University and open a used book store. She began buying general used book stock for the planned store, but neither she nor my father had any retail experience, so they made me the offer to help finance a new book store if they could use part of the space for used books. Twenty-three years later, "I got mail." The competition from the internet and a new mega store forced me to close my new bookstore and move my used book business (which I had taken over from my parents in 1996) completely online. I had already been selling used books on several sites since 1997 and I was particularly fascinated by eBay and the dynamic marketplace that an online auction provides. When I closed my bookstore in June, 2000, I began work on building and experimenting with an auction site just for children's books, a project that was just about ready to launch with a major promotion when Rick and I agreed to build a similar site for the antiquarian and fine book market. The name AB Bookman was well known, and it offered the opportunity to bring a lot of eyeballs to both projects.

BookThink: For those who aren't familiar with its history, exactly what was AB Bookman? Will any of its resources be made available to us?

Rick: AB Bookman was pretty much the bible of the Antiquarian/specialist book trade from its inception in 1949 to its last issue December 20-27, 1999. The want lists it carried were routinely quoted, usually on postcards, by scouts and bookshop proprietors weekly, and the articles were very informative about various aspects of bibliography, literature and the book trade. The new AB Bookman will slowly make available the old, reprinting articles on literature, bibliography, collecting, and the book trade, next to new features on the same subjects today.

Pete: My mother used to have her issues of AB Bookman sent to the P.O. Box so she would get it a few hours earlier than if they were delivered. She would pour over every ad, taking notes and then checking her stock to send quotes on postcards. The ecommerce sections of the new AB Bookman website will use a format similar in a unique way to the old AB Bookman's Weekly, but with the advantages that modern database technology provides.

BookThink: What were your reasons for launching this website? More specifically, what will AB Bookman offer booksellers that other sites don't?

Rick: AB Bookman is structured as a professionalsite for booksellers. A traditional marketplace, like the old AB Bookman. Unlike the current venues, booksellers on AB will describe books correctly according to traditional description, be given the tools within the website to research their finds, and present them as the collectible properties they are. AB Bookman will draw the book collector as a buyer/customer. The buyer will be protected by all the old time-tested rules of bookselling, rather than be left with caveat emptor and the chance to say something nasty as their only recourse.

Pete: We want to position this site as the most trusted source of used and antiquarian books on the internet. The traditional fine booksellers who subscribed to AB Bookman's Weekly and viewed bookselling as an time-honored profession have never had an online marketplace built specifically for them where their offerings are not buried among droves of unwanted and mis-described stock. Using this exclusive fixed-price database as an anchor, we will also be offering an online book auction where any book guaranteed to be accurately described can be sold. Another significant reason we are launching this site is to provide a marketplace where the members feel like they have a say in how things are run. Our goal is that this site be very tuned to the wants and needs of booksellers and book buyers, not to a corporate board only interested in this quarter's profits.

BookThink: Will AB Bookman welcome any and all booksellers or only those with a certain level of experience/expertise?

Rick: Anyone who wants to learn is, of course, welcome, and will get the help they need to present and sell their books. We will be giving both buyers and sellers the information, articles, reviews, etc., they need to become professional booksellers or expert collectors.

Pete: To sell on the fixed-price venue, you must be approved by a simple process that confirms your identity and guarantees potential buyers that you are knowledgeable enough about selling books to describe fine and collectable books correctly. To sell on the auction, you simply need to have a confirmed identity, agree to abide by our higher grading and description standards, and guarantee your transactions.

BookThink: What kinds of books will be sold?

Rick: We feel that the current venues have left both antiquarian and specialist booksellers out in the cold, so to speak. Both Amazon and eBay have instituted systems that are inimical to the browsing and relaxed atmosphere they need, and have moved to make remainders and new books their market. Basically, we will be giving the internet a venue for used/antiquarian/specialist books.

Pete: The fixed-price venue will have a minimum selling price of $10. The auction will have no minimum, but both venues will charge listing fees, so the site will not be clogged with the slow-selling or unsalable items that plague the sites that offer free listings.

BookThink: How will these books be sold? Auction? Fixed price? Can you give us some details about your arrangement with Bibliofind?

Rick: We have no arrangement with Bibliofind. We are just beginning to encounter a mare's nest of problems that, like the Bibliofind arrangement made by the previous publishers of AB Bookman, are causing no end of problems. Ecommerce will begin shortly with auction and fixed-price venues, as well as a books wanted, reverse auction.

Pete: The fixed-price venue will operate in a similar fashion to other online used book sites but with several unique and helpful features. The listings will be organized in a directory style layout organized by category and subcategory for easy browsing. When you view the offerings within a category (or when you view items matching your search inquiries), you will have thumbnail images of the book (if provided by the seller) and special icons to alert you to first printings and autographed books, among other things. The auction, using an identical directory/category layout, will have standard eBay style proxy auctions and reverse books-wanted listings but also several other options including secret auctions (where all bid numbers and amounts are hidden to eliminate sniping), dollar auctions (where the starting bid is always only $1.00 and there is no reserve), linked auctions (where you can list an item that is listed on another site) and fixed-price auctions (where the first bid buys the item).

BookThink: How will the books wanted auction work?

Rick: Very similar to the old postcard quoting days. Customers will quote their wants, and scouts, bookshop proprietors, internet sellers will bid the price down rather than up.

Pete: It is similar to the standard reverse auction but with a significant difference. In a reverse auction, a buyer lists a specific item they want and sellers bid the price down by placing lower offers. This doesn't work very well when each book offered is in a different condition and may even be different editions, so our books-wanted reverse auctions don't require the buyer who listed the auction to accept the lowest offer. They can evaluate and select the one that they decide is the best overall value or the one that suits their needs. They can also accept as many of the offers as they like.

BookThink: Talk about fees some. Will they be comparable to those charged at eBay?

Rick: The prices will be in a different structure. The most anyone will pay to list will be cheaper than eBay's current base price. While we haven't finalized anything yet, the structure will be based on subscription levels. Dealers at the highest level will be open to a closed forum, expensive bibliographic databases and be vetted to assure professionalism. Dealers who are beginning will pay no subscriptions; however, fees will be higher. The buyers will be aware of the subscription level in all sales venues, so the buyer can search for bargains from less experienced sellers or be assured of the perfect piece for his collection from an expert.

Pete: As I mentioned, there will be listing fees on all items to assure that the seller has a reasonable expectation that their item will sell at their listing or starting bid price. Current plans are that non-subscribers who pay no monthly subscription fee can sell at the auction and will pay a flat 25 cent auction listing fee regardless of the starting bid or reserve. Auction items will also have a 25 cent minimum final value fee on items sold, but otherwise the final value fees are significantly lower than eBay's, especially on higher priced items (we want to encourage sellers to list their higher quality items with us). There will be no commissions or final value fees on items sold in the exclusive fixed-price venue, but you must be approved and pay a monthly subscription fee in order to list there. Subscriptions will range from $10 to $40 a month and will offer many benefits, including discounts of 20% to 60% across the board on all auction and fixed-price fees plus access to restricted resources on the site depending on the level of subscription. Fees may be adjusted once we see how they affect the quality of the listings.

BookThink: Will any buyer/seller protection plans be put in place? For example, if a buyer snags a Grosset & Dunlap first edition, will there be a remedy?

Rick: We already have a committee of experienced booksellers to handle dispute resolution. And, in keeping with very long traditions in bookselling, all AB Bookman purchases will be returnable. In your example, if the Grosset is Tarzan the Terrible, the bookseller will return not only the price, but postage both ways. If it is The Red Headed Outfield, the buyer (obviously in this case mistaken about it) will receive a refund less postage both ways and the AB Bookman fee. This protects both the buyer and seller, assuring the buyer the book is the edition and condition advertised and the seller that he will not lose on a caprice.

Pete: This is what will really separate us from the other sites. Not only can you be assured that you will not get stuck with a mis-described (innocently or otherwise) book, you will have access to resources that will help you identify and learn about the books you have.

BookThink: When do you expect to have things up and running?

Rick: We are in alpha testing now. A lot will depend on eBay and their stabilization. Their seeming determination to be the Walden Books of the internet has scattered antiquarian/used/specialist booksellers and buyers. We are hoping that they will stabilize and establish a definite contrast between what we are and what they are. A used/antiquarian bookshop exists easily with a remainder bookstore, and they are often to be found in the same neighborhood or even the same strip mall. The difficulty that is arising is eBay's refusal to be clear to antiquarian/used booksellers that the new, pre-filled, item specific, non-browsable, ISBN, entertainment/media categories are not built for them. We would like to be good neighbors and profit from both ways of selling books between us.

Pete: I don't want to put a hard date on the beta test launch where we will invite users to list a limited number of items at no charge, but it should be soon. As soon as we burn through the system features and functions in the beta test to get the bugs out, we will be ready to take off the restrictions and begin our planned promotion. I expect it to take a month or two to test everything thoroughly and to adjust the site to meet the needs and suggestions of our members and users.

<! col. two ends> <! space>