<!spacer>

by Timothy Doyle

#14, 22 March 2004
By Any Other Name
How to Profit from Pseudonyms
| | | |
| --- | --- | --- |
| I'm departing from my usual format today to talk about pseudonyms, specifically how to recognize them and, in turn, use this knowledge to help you find truly remarkable books for your own collection or to resell. The use of pseudonyms has a long history and is still quite common, particularly among writers in the mystery and science fiction genres. | | |
Here is a common scenario: you are at the thrift store and you find a nondescript little book by an author you've never heard of. Nothing about the book stands out, no major or even minor flashpoints, so you put it back on the shelf. If the book in question is a Lancer paperback written by Deanna Dwyer called Dance with the Devil or Legacy of Terror, then you just threw away an easy $50 to $100 (or more) in profit. Why? Because Deana Dwyer is a pseudonym of Dean Koontz, and the gothic romances he wrote under that name are highly prized by Koontz collectors.
Many of the hottest authors on the market have published under a pseudonym, and many of these titles readily sell for very good prices. Dean Koontz' other pseudonyms include the following: David Axton, Brian Coffey, Deanna Dwyer, K.R. Dwyer, John Hill, Leigh Nichols, Anthony North, Richard Paige, and Owen West. Many of you reading this are already familiar with Stephen King's alter ego, Richard Bachman. Anne Rice has published several novels under the name of Anne Rampling and A.N. Roquelaure. Michael Crichton's pen names include Michael Douglas, Jeffrey Hudson and John Lange. And this is just the tip of the iceberg.
By learning some of these pseudonyms, you give yourself a tremendous advantage in what is daily becoming a more competitive market. For example, Anne Rice is a name with an extremely high recognition factor. Most of her books carry little resale value because, like other very popular authors, her books are printed in very large numbers. Rice's early books that do carry value - for example, Interview with the Vampire - are well known to book scouts who may haunt the same book sources you go to, thus minimizing the chances of you being the one to score. But far fewer people know Belinda or Exit to Eden by Anne Rampling or the erotic Sleeping Beauty trilogy by A.N. Roquelaure.
Authors use pseudonyms for any number of reasons. Some of the more common ones are listed below.
Some publishers employed stables of writers who wrote to order and were published under one of a number of house names. The Stratemeyer Syndicate, publisher of the Bobbsey Twins, Tom Swift, Hardy Boys, and Nancy Drew series, is a notable example of this (see James D Keeline's article on Stratemeyer for a detailed discussion of Syndicate pseudonyms).

Some multi-genre authors will use one or more different names for each category they publish in. There are authors who are so prolific that they choose to publish under several names, often to avoid the hack image that might result from having several books out at one time under the same name.

Authors will use pseudonyms to change gender on the premise that readers will accept a particular type of book more readily from a man or from a woman. This was very common in science fiction, where female writers sometimes altered or completely changed their names. Catherine Lucille Moore and Carolyn Janice Cherry neutered their names by publishing as CL Moore and CJ Cherryh, while Alice Mary Norton and Alice Sheldon switched gender and became, respectively, Andre Norton (ultimately adopting it as her legal name) and James Tiptree, Jr. Alternately, as noted above, Dean Koontz wrote gothic romances as Deana Dwyer, demonstrating that sometimes the feminine persona works better.

Some have speculated that Stephen King wrote his Bachman books in an attempt to prove that his writing could succeed without his real name printed in big letters across the cover.

Finally, for obvious reasons, there are numerous examples of authors who have published pornographic or erotic writing under a pseudonym.
A pseudonym is known as a working name if it is the name that the general reading population would associate with an author's work, whether it's the author's real name or not. Two examples, Andre Norton and James Tiptree, Jr , have already been discussed. Thus, the use of a pseudonym in and of itself is not a flashpoint. Instead, it is the use of a name, real or assumed, that is not the one that most readers would recognize.
Usually this lesser-known name is also a pseudonym, but there are cases where the author's real name is not as famous as their working name. For example, John Camp is the real name of a Pulitzer Prize-winning journalist and author of several mysteries including The Empress File and The Fool's Run. Camp, however, is much better known under his working name of John Sandford for the Prey series featuring police detective Lucas Davenport, which began with Rules of Prey and Shadow Prey.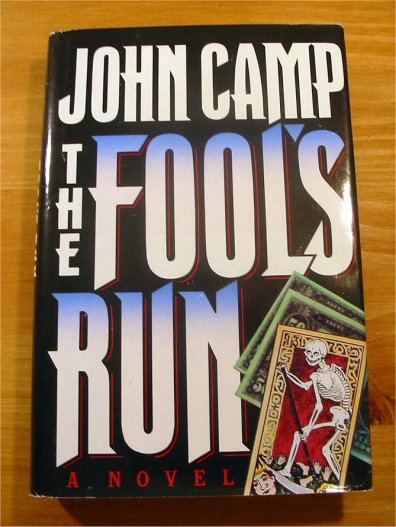 I recently made a terrific find as a result of my knowledge of pseudonyms. At a local thrift store I came across a slim hardback titled Ria by Felix C Forrest (Duell, Sloan & Pearce, 1947). The book was missing its dust jacket and had a little damage to the top of the spine and a small hole in the front gutter. However, I recognized that Felix C. Forrest was a pseudonym used by Paul M.A. Linebarger, who also published science fiction under the working name of Cordwainer Smith.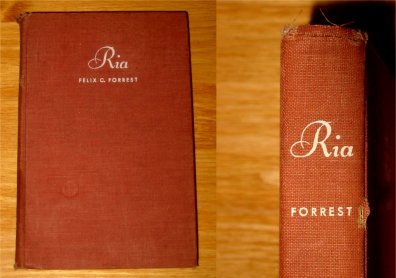 Linebarger, a well-known and respected political scientist and government advisor, was one of those early-20th century larger-than-life characters. The god son of Sun Yat Sen, Linebarger's early years were spent in Europe, Japan, and China. In 1948, he wrote Psychological Warfare, considered at the time to be the definitive text on the subject. He served with the US Army Intelligence Corps in China during World War II, during which time he wrote three non-SF novels - his first novel, Ria, followed by Carola (1948), also as Felix C. Forrest, and Atomsk (1949), a spy thriller written as Carmichael Smith. It's interesting to note that Felix Forrest is a pun based on the transliteration of Linebarger into Chinese (Lin Bah Loh), which means Forest of Incandescent Bliss."
Of Linebarger's SF written as Cordwainer Smith, noted SF author Robert Silverberg observes:
I remember reading "Scanners Live in Vain" in Fantasybook and being utterly astounded by it…. There's no point in imitating Cordwainer Smith; secondhand Cordwainer Smith is worthless. We have the real thing, we know what it's like, and anybody imitating it just looks silly. But there is a kind of influence that goes into the roots of creativity…nobody who has written science fiction since the 1960s has failed to take into account Cordwainer Smith, just as Heinlein reshaped everything in the 1940s.
Panel Discussion at Philcon, September 2001
When I examined the book further, I found that it was inscribed and signed by the author on the front free endpaper.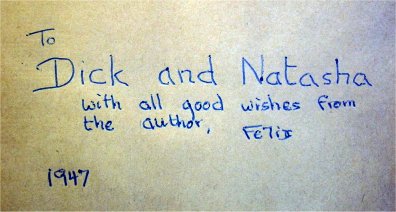 Searching the internet for comparison samples of Linebarger's handwriting, I discovered a site devoted to the author and maintained by his daughter, Rosana (Linebarger) Hart - The Remarkable Science Fiction of Corwainer Smith.
I emailed her with a link to a picture of the inscription (below), and in a very gracious reply she not only confirmed the writing as that of her father, but also identified Dick and Natasha as family friends of the Linebargers. Some of her comments regarding the inscription:

…the phrasing of the inscription sounds like him. He signed many books and often used the pen name…. I looked at the inscription. I am quite certain that he did it. It reminds me of him, even the way the layout of the words and so on.
Rosana (Linebarger) Hart, personal communication 03/09/2004
In the process of authenticating the signature, one of my questions pertained to the use of Felix in the inscription. In the communication cited above, Rosana Hart notes that Paul Linebarger often signed in the persona of his pseudonym. Additionally, one of the two signed copies of Ria listed online is signed as Felix Forrest.
Thus, for $0.50 I added to my personal collection a signed association copy of the first novel by one of science fiction's most influential writers - all because I recognized a rose by another name.
The following is a short list of some titles associated with SF (either through the author or through the book), followed by some useful links for researching pseudonyms.
Paul French - The Lucky Starr series of juvenile SF books, first published in hardback during the 1950's by Doubleday. Pseudonym of Isaac Asimov.
Cassandra Knye - Two gothic titles: The Castle and The Key (Paperback Library 1967). Pseudonym of John Sladek. Also, The House That Fear Built (Paperback Library 1966). Pseudonym of John Sladek and Thomas Disch.
Stephen Bury - Interface (Bantam, 1984, trade paperback). Pseudonym of Neal Stephenson and George J. Frederick.
Fredeerick R. Ewing - I, Libertine (Ballantine, 1956, hardback or paperback original). Pseudonym of Theodore Sturgeon and Jean Shepherd.
Andrew North - Plague Ship (Gnome Press, 1956, hardback) and Sargasso of Space (Gnome Press, 1955, hardback). Pseudonym of Andre Norton.
Leigh Nichols - Numerous titles, notably The Door to December (Inner Circle, 1987), The Key to Midnight (Piatkus, 1984, hardback), and Eyes of Darkness (Piatkus, 1981, hardback). Pseudonym of Dean Koontz.
David Axton - Prison of Ice (US: Lippincott, 1976, hardback; UK: W.H. Allen, 1976). Pseudonym of Dean Koontz. NOTE: An adequate exploration of Dean Koontz and his various pseudonyms would itself be the subject of an entire article. Suffice it to say it would be worth researching further on your own.
Evan Hunter - Find The Feathered Serpent (John C. Winston, 1952). Real name of author better known as Ed McBain.
Richard Marsten - Rocket to Luna (John C. Winston, 1953, hardback). Another pseudonym of Evan Hunter.
John Lange - Various novels, notably Odds On (author's first book, Signet P3068, 1966, paperback original), The Venom Business (World Publishing, 1969, hardback), and Binary (Knopf, 1972, hardback). Pseudonym of Michael Crichton.
Jeffrey Hudson - A Case of Need (World, 1968, hardback). Pseudonym of Michael Crichton.
Michael Douglas - Dealing or The Berkeley-to-Boston Forty-Brick Lost-Bag Blues (Knopf, 1971, hardback). Pseudonym of Michael Crichton and Douglas Crichton.
Useful Links for Additional Research
Fantasy and Science Fiction
Fantasy & Science Fiction: Pseudonyms by Author (search by real name)

Fantasy & Science Fiction: Pseudonyms by Pseudonym (search by pseudonym)

Science Fiction Author Pseudonyms

A Mystical Union Online Used Bookstore - Pseudonyms

Fiction DB - Speculative - Pseudonyms
Mystery and Suspense
Directories of Pseudonyms (Working Names) of Mystery and Suspense Writers
Romance
General - all authors
Gale Literary Index Database - Gale's Literary Index is a master index to the major print literature series published by The Gale Group. It combines and cross references more than 130,000 author names, including pseudonyms and variant names, and more than 140,000 titles into one source.

<! col. two ends> <! space>