<!spacer>

by Timothy Doyle

#12, 23 February 2004
Urban Fantasy
Worlds Within Worlds
| | | |
| --- | --- | --- |
| The City is a staple of SF, which has often depicted the cities of the future as technological wonderlands featuring soaring towers and flying cars. Thea von Harbou's Metropolis (Berlin, August Scherl, 1926), the basis for husband Fritz Lang's 1927 movie of the same name, showed just such a marvelous city and its privileged citizens, as well as the enslaved underground workers who tend the machines that keep the city running. Isaac Asimov's Foundation series describes Trantor, imperial seat of the galactic empire. The capital city has grown to cover the entire surface of the planet, and yet an incredible secret is hidden within its heart. | | |
Given that conflict is a major component of plot, it is somewhat of a tautology to say that SF stories about cities usually involve conflict. However, the conflicts in human culture are perhaps nowhere more evident than in the city, where so many distinct elements are brought into close proximity. The wealthy walk the same sidewalks as the homeless; billion-dollar office towers throw their shadows on tenement slums; wild pockets of nature are rigidly contained within park boundaries.
Urban fantasy takes this somewhat metaphorical idea of the many conflicting elements that make up a city and weaves it into a literary framework with typically one central conflict. The television series Beauty and the Beast, starring Ron Perlman and Linda Hamilton, is an excellent example of urban fantasy. Hamilton is a beautiful and successful assistant DA in New York City who is rescued from danger by Perlman's dark and brooding Vincent, a lion-featured man-beast with the soul of an artist. Vincent lives in a hidden network of tunnels and caverns beneath the streets of New York with an entire community of people who have chosen to cut themselves off from the dangers of the surface world. And there it is in a nutshell: the world within a world, typically hidden or secret, usually involving mystical or supernatural elements, discovered by chance or fate by an outsider who finds something they've been lacking - adventure, freedom, acceptance, identity, romance.
AUTHOR'S NOTE: in discussing book values, unless otherwise specified assume the first printing of the first trade edition in hardback with dust jacket, in Fine/Fine condition. PB is paperback, PBO is paperback original, and TPB is trade paperback.
Following are a few titles I'm aware of that tie into the television series Beauty and the Beast. Each sells in the $10 to $20 range.
Beauty And The Beast: Lost Yesterdays, Impossible Tomorrows. Prosser, K. Kimberly & Lisa Swope. Cinemaker Press, 1993. ISBN: 0962750898. TPB.
Beauty and the Beast: Beyond Words, Beyond Silence. Dibble, Nan, Illustrated by Gipson, Barbara. Cinemaker Press, 1992. TPB
The Unseen Beauty And The Beast. Gross, Edward editor. Image Publishing, 1991. TPB. ISBN: 0962750840.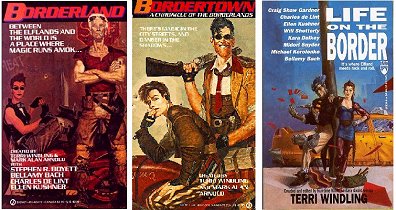 Borderland. Terri Windling and Mark Alan Arnold, editors. a) New York: Signet Books, 1986. PBO. Signet AE-4172. ISBN: 0451141725. $25 - $35. b) New York: Tor, 1992. PB. ISBN: 0812522613. $10 - $25.
Bordertown. Terri Windling and Mark Alan Arnold, editors. New York: Signet Books, 1986. PBO. Signet AE4527. ISBN: 0451145275. $20 - $30.
Life on the Border. Terri Windling, editor. New York.: Tor, 1991. PBO. ISBN:0812508246. $40 - $75.
The Essential Bordertown. Terri Windling and Delia Sherman, editors. a) New York: Tor, 1997 TPB. ISBN: 0312867034. <= $5. b) New York: Tor, 1998 HB. ISBN: 0312865937. $10 - $15
"Between the Elflands and the world is a place where magic runs amok …." Borderland is a "shared universe" created by Terry Windling, eliciting stories and novels by authors such as Ellen Kushner, Midori Snyder, Charles de Lint, Bellamy Bach, Will Shetterly, Emma Bull, Phil Hale, and Terri Windling. The Elflands have reappeared in the modern world, and between the two is the Borderland. A modern human city, renamed Bordertown, sits at the edge of the Elflands and acts as a magnet to the young and disenfranchised, the loners and outsiders, attracting runaways and misfits from both sides of the border to join an evolving hybrid counterculture.
Locus Magazine describes Borderland as "A dreamland of rock 'n' roll glamour, punk elves, and alienation raised to high style." This series has attracted a very strong following by playing on the greatest strengths of Urban Fantasy - fantastical elements believably synthesized with a gritty, street-smart realism, offering hope (often accompanied by danger) to the alienated and lonely. And haven't we all felt that way at one time or another?
Although third in the series, Life on the Border is apparently somewhat scarcer and commands a higher price. Its value may be further enhanced by the introduction of Charles de Lint as a contributing author, specifically with a short story titled "Berlin." de Lint has established himself as a very popular author and urban fantasist in his own right and has attracted many devoted readers and collectors.
Additional titles in the Borderland universe include:
Elsewhere. Will Shetterly. Nevernever. Will Shetterly. Finder. Emma Bull. Double Feature. Emma Bull.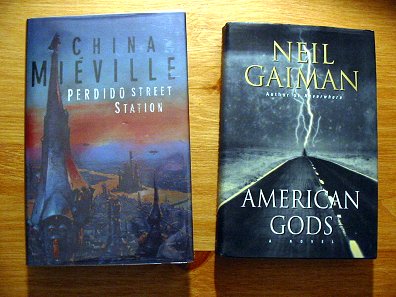 Neverwhere. Neil Gaiman. a) London: BBC Books, 1996. ISBN: 0380973634. $75 - $125. (Oddly, most copies of this title seem to be price clipped, so one with a price intact should command top dollar.) b) New York: Morrow/Avon, 1997. ISBN: 0380973634. $15 - $25. (Online listings show the same ISBN number for both the UK and US editions. I'm not sure that this is correct, but I haven't been able to find any additional information yet.)
Neil Gaiman does it all. He is the creator and writer of the multi-award winning DC Comics series Sandman, which Norman Mailer has described as "a comic strip for intellectuals," wrote the English-language, Nebula nominated script for Miyazaki's Princess Mononoke, and has written original scripts for radio, television and stage, as well as numerous short stories, anthologies, and full-length novels. His six-part BBC TV series, Neverwhere, is set in modern London and the fantastical London Below. Ordinary businessman Richard Mayhew impulsively rescues Lady Door, a member of what passes for royalty in London Below, and soon finds that he no longer exists in London Above. Like Dorothy in The Wizard of Oz, Richard finds himself embroiled in a dangerous quest, first to find who murdered Door's family, and then to find a way home. Common London place names take on a sometimes terrifying reality, from the deadly toll that must be paid on the Knights Bridge to the three challenges of the Black Friars. On the run from a pair of marvelously wicked assassins, with a traitor in their midst, Door and her companions must face the dreadful Beast of London and find the Angel Islington.
American Gods. Neil Gaiman. a) London: Headline, 2001. ISBN: 0747274231. $20 - $30. b) NY: Morrow, 2001. ISBN: 0747274231. $10 - $15. (NOTE: this US edition was heavily remaindered, so avoid copies with a remainder mark.)
Gaiman's American Gods is an urban fantasy on a road trip in search of America. Ex-con Shadow is hired as a bodyguard by the mysterious Mr. Wednesday, who is in fact the old god Odin. Shadow has been recruited to assist Wednesday in his quest to wake and gather the old forces, the age-old myths and deities that the immigrants brought to America as well as those native to the continent. The story leads to a confrontation between these old gods and the new powers of modern, technological America - "gods of credit card and freeway, of Internet and telephone, of radio and hospital and television, gods of plastic and of beeper and of neon."
King Rat. China Mieville. UK: Macmillan, 1998. PBO. ISBN: 0333738810. $20 - $40+. (No hardback edition to date. A US PB edition of negligible resale value has been released.)
Wrongfully imprisoned for the murder of his father, Saul Garamond is freed from his cell by an impossible stranger, a dark figure who calls himself King Rat. In this urban riff on the story of the Pied Piper, Garamond must discover his true heritage, and he must do it before the forces that murdered his father act again. As in Neverwhere, King Rat shows us a different London whose basements, sewers and rooftops teem with unusual and supernatural inhabitants. As with much Urban Fantasy writing, King Rat is infused with music, in this case the Jungle drum and bass of London's 1990's underground music scene.
Perdido Street Station. China Mieville. London: MacMillan, 2000. Hardback. ISBN: 0330392891. $100 - $175. London: MacMillan, 2000. PB. ISBN: 0333781732. $10 - $15. (MacMillan HB and PB editions were released simultaneously. A US PB edition of negligible resale value has been released, and there is no US hardback trade edition to date. There may be an SFBC hardback edition.)
Mieville's breakout novel, Perdido Street Station is set in the phantasmagoric city of New Crobuzon, home to several different races of intelligent creatures (including humans) and host to government spies, drug lords, mad scientists, artists, magicians, aliens, outlaws and monsters: a human scientist, Isaac Dan der Grimnebulin, who seeks the unified theory of science and attempts to build prosthetic wings for a garuda whose own were cut off as punishment for an obscure crime; Isaac's alien lover who has been commissioned to sculpt a notorious drug lord; and a giant grub that escapes Isaac's lab and metamorphoses into a flying monster that terrorizes the city, sucking the nightmares from its victims and leaving them mindless vegetables. This may sound like a lot, but at 710 pages (!) there is plenty of stage for all of the players and plots. Also of note is The Scar (London, Macmillan, 2002), not exactly a sequel but set in the same world as New Crobuzon.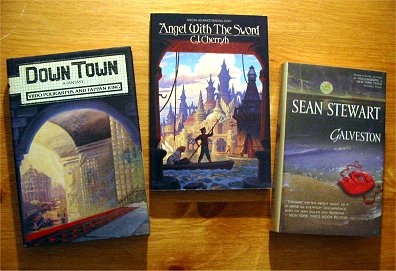 Galveston. Sean Stewart. New York: Ace Books, 2000. ISBN: 0441006868. $5 - $15.
During Mardi Gras of 2004, the city of Galveston is again flooded, this time by a rough magic that literally divides the city in two. The mundane part of the city is nearly a post-holocaust scene. Physical laws have changed such that almost all technology has broken down or is unpredictable, and the survivors are forced to eke out an existence with short supplies of food and water. But in part of Galveston it is always Mardi Gras of 2004, and those who live or even visit are forever warped by the magic. Sloane Gardner can safely cross between the two worlds, but her actions cause a chain reaction of events that shatter the uneasy balance between the two worlds.
Angel With the Sword. CJ Cherryh. New York: Daw Books. 1985. ISBN: 0809900017. $5 - $15.
Angel With the Sword is set in Merovingen, a crumbling, towering city built around a massive canal system much like Venice. Young canal rat Altair Jones, a fiercely independent woman of 16, rescues the hightower Thomas Mondragon after she witnesses his supposed corpse being dumped from a bridge. Written in typical Cherryh style, with many grand complications and even more political intrigue, this book became the basis for a shared universe that yielded numerous anthologies by many top writers in the field. These anthologies, issued in paperback only, are somewhat hard to come by and are strong sellers, especially in good condition. Titles in the series are as follows:
Angel with the Sword
Festival Moon
Fever Season
Troubled Waters
Smuggler's Gold
Divine Right
Flood Tide
Endgame
Down Town. Viido Polikarpus and Tappan King. New York: Arbor House, 1985. ISBN: 0877956731. $10 -$15.

Down Town is a city below the streets of New York, a place where the old and the obsolete still live on after Progress has swept them aside. Down Town is a kind of a parallel New York, possessing charming elements - gaslights, for example, and the Crystal Palace - but also populated with dangerous evildoers, notably ruthless Wall Street robber barons. Young Cary Newman stumbles upon a portal to Down Town when he becomes lost in the New York subway and soon learns that he is the bearer of a powerful talisman sought by evil characters from both Down Town and the real New York. A young adult novel, this one might be a bit of a sleeper, and a rise in value in coming years may be likely as older adults go looking for a bit of their youth.

Other titles of interest:

Little, Big. John Crowley. A Winter's Tale. Mark Helprin. God Stalk. PC Hodgell. The Anubis Gates. Tim Powers. (I neglected to mention this one in my article on time travel books and so will include it here for its wonderful depiction of nineteenth century London with an ancient Egyptian magician, a killer clown, a body-shifting werewolf, armies of beggars, underground torture chambers, and a secret society of London gentlemen sworn to fight evil.)

Notable authors:

Jonathan Carroll. An all-time favorite author of mine. Titles such as Voice of Our Shadow and Sleeping in Flame have highly fantastical and horrifying elements running through them, all played out against a lovingly depicted backdrop of modern day Vienna. Many of Carroll's stories are set in Vienna, and the warmth of his feeling for the city shines through.

Charles de Lint. I have left de Lint mostly out of this discussion simply because he has written so many books that I could not do them justice. Thus, I leave the research of his works as a rewarding exercise for the student.

<! col. two ends> <! space>