<!spacer>

Familiar Strangers

by Pamela Palmer

#11, 2 February 2004
Taking Book Buying to the Top
Dealing with high-end books requires specialized knowledge. And while learning can start on the Internet, tracking down the finer points to differentiate a $5 from a $5000 volume or developing subject expertise often calls for more. Then it's time to visit the closest research library.
Once there, start with five pairs of titles that have a proven track record. Some are huge relics from early last century. Long a feature in reference departments, they may look familiar even if you never opened one. Others are powerful databases, generally restricted to in-library use by the public. One of the best is WorldCat. Even if you are familiar with the mini-version from abebooks.com, get ready for a surprise. The full-featured version is in a different league.
WorldCat and Library of Congress Online Catalog (LC) - Built on the OCLC database, WorldCat is close kin to the database that fuels the national Interlibrary Loan system. It contains some 52 million records and is updated daily.
Searching is easy, despite the more than thirty options ranging from title and author to keyword, ISBN, and subject. Using the three search fields allows for a dizzying number of potential combinations. In addition, you can fine-tune to a range of dates, language, format, and audience. So gauging the rarity of a history of Ireland published in French during the 1960s is no problem. Six titles meet the criteria, and you can pick up a few details about each one in the process.
If you wonder which of Hemingway's 1926 The Sun Also Rises printings is the one, input "Hemingway Ernest" as an author phrase combined with "Sun Also Rises" as a title phase, and throw in 1926 as the year. First on the list of 19 hits is the Scribner volume with a note stating "A novel./First edition, first issue, with typographical error on line 26, p. 181."
WorldCat's nearest rival is the Library of Congress Online Catalog, a 12 million-record free database you can use on the Internet. Its Guided Search offers the most options. Click the "full record" tab after the search is run to get details. WorldCat beats LC hands down for focused searching, but remember that the two databases are not identical in content. Using both may prove helpful. Looking in LC for information on Hemingway's 1938 Spanish Earth published by Savage reveals exactly the kind of note you hope to find: "'First edition.' 'Limited edition of 1000 numbered copies.' 'The first issue has pictorial end papers showing a large F.A.I. banner ... [It was] recalled and the books were reissued with plain end papers, the terminal lining paper carrying a note by the publishers explaining the reason for the change'--Johnson."
Union List of Serials in the Libraries of the United States and Canada (Union List or Gregory) and WorldCat - In addition to its powerful searches for books, WorldCat includes periodicals, musical scores, and more. If you are interested in the early short-lived periodical First Edition and Book Collector, a title phrase search yields pertinent information. It was published in London and is available in only fifteen libraries. The entire run was two issues, both appearing in 1924. The record also identifies the libraries with the title, showing, for example, that Rollins College in Florida owns both issues in paper format.
The Union List in print form can't equal WorldCat speed, but its multiple volumes, including the monumental 3065 page second edition of 1943, remain valuable. Sometimes known as Gregory for its early editor Winifred Gregory, Union List shows what was available to readers at particular libraries at specific times. I once wrote an article that turned on the historic availability of several periodical titles in the United States in the early twentieth century. The Union List was the only source for that level of detail. Some periodicals likely dropped out of library existence prior to WorldCat's origin. For those, the Union List is the best answer, covering publications through 1949.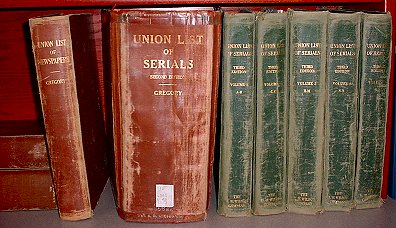 Cumulative Book Index (CBI) and United States Catalog (USC) - BookThinker articles on flashpoints increased awareness of ice harvesting and pigeon books as collectible. For those and other topics of interest, CBI and USC let you trace titles published year by year, starting with 1899. USC is the base set, published in four editions from 1899 to 1928. CBI is the supplement to that set, published periodically until 1968 and annually until it ceased with the 1999 volume.
If you wanted to know what pigeon books were in print in 1927, CBI would show several titles, including the U.S. Naval Communication Service's Manual of Instruction with Questions and Answers Relative to the Care and Training of Homing Pigeons in the United States Navy and Thompson's Passenger Pigeon, privately printed by the author in 1922 at Coudersport, PA.
Most of the same titles appear in WorldCat. Others, though, likely disappeared from libraries before the database began. Those are the scarcest and potentially the most valuable.
First Editions Books and Analytical Bibliographies - Though their coverage is uneven, books detailing first edition points are invaluable. One example is Modern First Editions: Points and Values, by Gilbert Fabes. Published in three volumes between 1929 and 1932, it is typical of the best of its kind. If you are interested in first edition details of George Bernard Shaw's An Unsocial Socialist, for example, Fabes indicates it was bound in bright scarlet cloth and adds, "The first issue was bound as described, with olive green end papers and untrimmed edges. Gilt lettered. The second issue was bound in maroon boards; lettered in black. End papers reddish brown and an appendix added after page 256." At the time of Fabes' writing, the value of the first issue in British pounds was 150 compared to 40 for the second issue.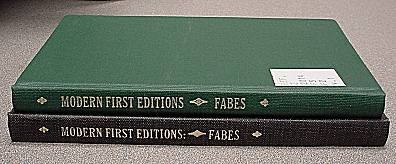 Another major source is the analytical bibliography. This highly detailed descriptive approach is often unapparent in the title, so to find one on your topic, you have to look at the actual bibliography. When you see a third of a page or more devoted to describing the binding, paper, contents, and other part of a single book, you've found the right source.
One example of analytical bibliography is the "Books and Pamphlets by W. H. Auden" chapter in W. H. Auden: A Bibliography, 1924-1969. Over two pages are devoted to description of the poet's first work, Poems, published in 1928. It indicates that approximately 45 copies were printed and covers every detail from "printed erratum slip bearing poem I(h) is loosely inserted between pp. 6 and 7" to describing the paper as "Cream wove paper watermarked with a triangle bisected horizontally, the letter 'T' in the upper division and ....."
If you blanch at so much detail, think of it another way. If you come across a copy of this work, you'd definitely want to recognize it.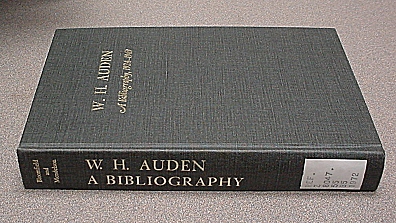 Dictionary of Literary Biography (DLB) and Dictionary of Literary Biography (DLBDC) Documentary Series - Available both in print and as a database, these complementary titles are rich in visuals, as well as words. If you want to focus on early children's writers but don't know who they are, vol. 42, American Writers for Children Before 1900, is just one of the volumes to get you started. If African-American writers are an interest, see several volumes, including vol. 33 on Afro-American Fiction Writers after 1955.

Currently at 307 volumes, DLB devotes each to a single subgenre and time period. William Faulkner, for example, appears in multiple volumes, including a section in vol. 9, American Novelists, 1910-1945. The 80+ pages on Faulkner provide immersion in the author's life and literary output previously available only in a full-length work.

Designed to supplement DLB, Dictionary of Literary Biography Documentary Series illustrates and discusses key documents. Faulkner's coverage in DLBDC includes a list of his books, along with biographies, bibliographies, letters, archives, numerous photos, examples of his art, copies of inscription letters, book reviews, and more.

Developing knowledge of high-end books is not for everyone. But for those who enjoy the challenge, these books and databases make a good starting point.

<! col. two ends> <! space>