<! col one starts>
<! col one ends> <!space>
<! col two starts>



<!spacer>

by Timothy Doyle

#8, 22 December 2003
| | | |
| --- | --- | --- |
| Time travel is one of the core themes of science fiction and fantasy. Countless short stories, novels, movies and television episodes have explored its many facets. Indeed, this theme is so broad and so well developed that it could quite easily be broken out into numerous sub-themes: paradox stories (a traveler goes back in time and kills his own grandfather or, conversely, becomes his own grandfather); dinosaur stories; time wars; future disaster (a message or messenger arrives from the future to avert a catastrophe); time loops; cross-time love stories; time slippage (characters or objects inadvertently fall out of their own time and into another); key person and critical event stories (a time traveler arrives at some key point in history - for example, the Crucifixion, Waterloo, JFK's assassination - and attempts to either alter or bring about the "correct" outcome); free will versus determinism; and many more. | | |
Many of these themes are have been explored so often that they have become clichés. Time travel is one of the few overtly SF themes (post-holocaust stories are another example) to attract the attention of many otherwise mainstream or at least non-genre authors.
AUTHOR'S NOTE: unless otherwise specified, estimated values offered below refer to first printings of first trade editions in hardback with dust jackets present in Fine/Fine condition.
Key Early Time Travel Works
Three of the best known examples of early time travel stories also exemplify the three principal methods commonly employed to explain trips through time. In Charles Dickens' A Christmas Carol (1843), Ebenezer Scrooge travels to both the past and the future through the supernatural intervention of the Ghosts of Christmas; or was it all just a dream? In Mark Twain's A Connecticut Yankee in King Arthur's Court (1889), a crowbar to the head is the unexplained accident that sends Hank Morgan back to the days of chivalry. And in H.G. Wells' The Time Machine (1895), a Victorian scientist known only as the Time Traveler invents a nuts-and-bolts machine that eventually brings him to the far-future land of the Morlocks and Eloi.
Other works, such as Wells' When the Sleeper Wakes (1899) and Edward Bellamy's Looking Backward (1888), represent a kind of sub-genre of one-way time travel in which the protagonists enter a form of suspended animation, only to awaken in the future. Many early time travel stories were essentially vehicles which used depictions of future utopian and dystopian societies to express the author's political philosophy and highlight societal virtues and faults. In this sense they are very much related to classic utopian/dystopian stories set in undiscovered or faraway lands. Examples are Plato's Republic (ca. 360 BC), Jonathan Swift's Gulliver's Travels (1726), and Samuel Butler's Erewhon (1872).
Key Modern Time Travel Works
Diana Gabaldon
The Outlander Series
Outlander. New York: Delacorte Press, 1991; $125+
Dragonfly in Amber. New York: Delacorte Press, 1992; $50+
Voyager. New York: Delacorte Press, 1994; $10+
Drums of Autumn. New York: Delacorte Press, 1997; $10+
The Fiery Cross. New York: Delacorte Press, 1991; $10+

I warned you in my introductory column that some of the books I would be discussing could not strictly be classified as science fiction. Well, it's time to make good on that. Diana Gabaldon's Outlander is first and foremost a romance novel - an historical romance, to be precise. The heroine, Claire Randall, is a modern (ca. 1945) woman inexplicably hurled back in time after she enters a mystical stone ring. She travels to war-torn Scotland of 1743 and becomes embroiled in the intrigues and dangers of life with Clan MacKenzie and the Scots warrior James Fraser. Fans of this series rave about the wonderful characters, the historical accuracy, and the clash between Claire's modern sensibilities and the culture of eighteenth century Scotland. I have not read the series, but frankly I can't help but think of the Reese's Peanut Butter Cup commercials (You got Time Travel in my Romance … You got Romance in my Time Travel … Two great tastes that taste great together!). The time travel element of this story is essentially a supernatural device used to bring together two characters that otherwise could never have met. And as you'll see later, this same conceit is used by two solidly SF-genre writers to produce some very romantic SF.
The first four books of the Outlander Series appear in the photograph below. These are book club editions with dust jackets identical to the corresponding trade editions. Note the evolution of the placement and appearance of the author's name as the popularity of the series grew.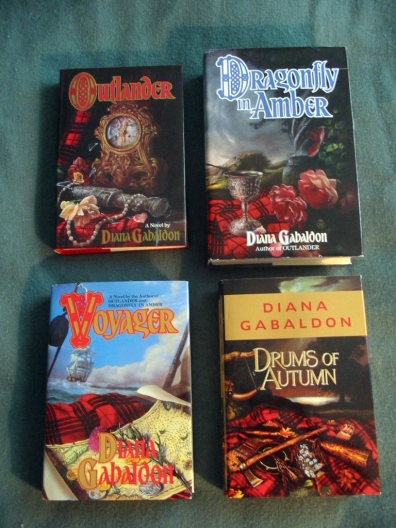 Later books in the Outlander series actually develop the time travel concept somewhat, and the reader learns that there is a genetic component to the ability to accomplish this kind of travel. The books in this series are highly collectible and possess a very large and motivated fan base. Gabaldon is an active author who tours regularly, so the motivated collector or seller should have no real trouble getting copies signed. Fans of this author are so loyal that they routinely hold on to their first editions (especially if signed); thus, relatively few copies are available at any given time. Note also that book club editions of these titles, particularly the first two, also sell well.
Stephen Baxter
The Time Ships. London: Harper Collins, 1995
Billed as "the authorized sequel to The Time Machine," The Time Ships tells the story of the Time Traveler's quest to return to the far future world of the Eloi and Morlocks to rescue Weena. He soon discovers that his previous trip through time has altered the course of future history, and the time and place he seeks no longer exists. Nominated for a Hugo and winner of the 1996 John W. Campbell Memorial Award, the 1996 British Science Fiction Association Award, and the 1997 Philip K. Dick Award. The first trade hardback edition was published in the UK by HarperCollins in 1995 (ISBN 0002246090) to coincide with the centennial of the original publication of The Time Machine. Copies of the UK hardback first in F/F condition are listed starting at $300. A UK HarperCollins paperback was released also in 1995 (ISBN 0006480128), and a US HarperPrism paperback was released in 1996 (ISBN 0061056480). To my knowledge, no US hardback edition of this title has been released, and I have found no indications of a hardback SFBC edition.
Connie Willis
Doomsday Book. New York: Bantam Books, 1992
Co-winner of the 1993 Hugo Award, winner of the 1993 Nebula Award and 1993 Locus Award for best novel. In this meticulously researched story, Kivrin, a 21st century history student, is stranded in time in a 14th century English village. Parallel stories develop: Kivrin witnesses the ravages of the Black Death, and modern England reels from the outbreak of a mysterious disease. While justifiably criticized for stilted plot devices that result in a sense of contrived suspense, Doomsday Book offers a fully realized and realistic depiction of 14th century England and the tragically human dimensions of the Black Death.
Willis has authored several other time travel titles, most notably the 1982 Nebula and 1983 Hugo award winning novelette Fire Watch (collected in Fire Watch, New York: Bluejay Books, 1985 - $75 to $125) and To Say Nothing of the Dog (New York: Bantam Books, 1998; winner of the 1999 Hugo for best novel - $25 to $50). These stories all share a well developed, technologically based method of time travel. To Say Nothing of the Dog is particularly impressive. Strong SF elements are merged with a plot that skillfully balances a line between English comedy of manners and all out farce. Also of interest by Connie Willis is Lincoln's Dreams (New York: Bantam, 1987; winner of the 1987 Campbell Award for best novel - $25 to $40 unsigned), another carefully researched novel in which a modern woman seeks help in dealing with the frighteningly vivid Civil War era dreams she is having, specifically from the viewpoint of Robert E. Lee.
Jack Finney
Time and Again. New York: Simon and Schuster, 1970
In Time and Again, Si Morley is recruited to participate in an ambitious military experiment, and through a combination of intensive training, cultural immersion, drugs and hypnotic conditioning, he succeeds in traveling back to 1882 New York City. An example of what many critics (including John Clute, SF author and critic, co-editor of the 1993 Encyclopedia of Science Fiction) call "psychological time slippage," Time and Again is part travelogue (to some, the lovingly detailed descriptions of old New York are the best part of the book), part mystery, and part romance. Some of Finney's most popular fiction is colored with a sentimental nostalgia for the past, and this is true of Time and Again. But Finney's New York of 1882 is no idealized dream city; it is a real, gritty place. Be careful with this title. The book club edition is nearly identical in appearance to the first printing and even includes a price printed on the inside front flap of the dust jacket. The book club edition can be distinguished by a blind stamp at the lower right corner of the rear board. In addition, there are two states of the first printing dust jacket. The first and preferred state has a photograph on the rear flap with the caption: "Ladies mile - Fifth Avenue from 34th Street to 14th Street." The second state jacket bears the same photograph with a corrected caption: "Ladies mile - Broadway from 23rd Street to 8th Street." Asking prices for fine first printings run into the $500 to $750 range, though final values on eBay might only reach half that on a good day.
Richard Matheson
Bid Time Return.
New York: The Viking Press, 1975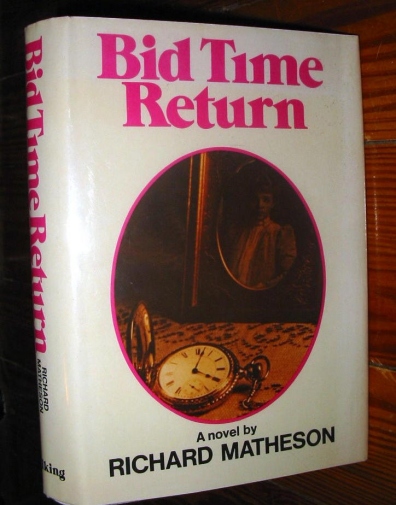 In Bid Time Return, Richard Collier is a writer dying of an inoperable brain tumor. Following a sudden, inexplicable urge to escape his life, Collier finds himself checking into a grand old seaside hotel. Here he sees a photograph of Elise McKenna, star actress from the turn of the century, and falls in love. By the strength of his love and desire, Collier manages to will himself back in time to find Elise. It is a testament to Matheson's writing skills that he manages to make this sound credible. Richard Matheson also wrote the screenplay for the 1980 film titled Somewhere in Time starring Christopher Reeve and Jane Seymour. Matheson is well known for his many novels, short stories and television and movie screenplays. He wrote fourteen Twilight Zone episodes, including "Nightmare at 20,000 Feet" and "The Invaders." He also authored the novels The Incredible Shrinking Man, I Am Legend, and Hell House, all of which were made into classic SF/horror films. In Bid Time Return, Matheson evokes a mood very similar to that of Finney's Time And Again - a somewhat wistful and sentimental longing for an escape to the past - only to discover that the past is not the simpler, happier time he thought it would be. Also, like Time and Again, asking prices for fine first printings of Bid Time Return go as high as $500 to $750. A signed copy recently sold on eBay at $400, an unsigned copy without a dust jacket for $99.

This is of course a mere sampling of titles in SF concerning time travel. Email me with your favorite titles that I may have missed, and I will try to include them in a follow up article … somewhere in Time.

<! col. two ends> <! space>
<! col. three begins>


<! button for rotating ads starts here>

<! col. three ends>