<! col one starts>
<! col one ends> <!space>
<! col two starts>



<!spacer>

How to Buy First Editions

by Craig Stark

#7, 1 December 2003
A Quick-Start Guide
The term "quick start" was born and raised early in the computer age, a time when our patience to plow through thick and often technically difficult user's manuals wore increasingly thin. "Just show me how to turn this thing on, and I'll figure things out as I go" was all we really wanted, and when the computer industry finally recognized this, quick-start manuals to accompany hardware and software were conceived and delivered into our hands.
As important as it is to lay a solid foundation for the study of first edition identification, we also understand the desire to get on with things, the sooner the better. Today, by using selected pieces of information mined from the first four BookThinker articles published on first edition identification (and a fifth article on reprint publishers in today's issue), we're going to do just that - give you a quick-start method for maximizing your chances of purchasing quality first edition fiction.
The process of doing this, remember, is never one of looking for first editions; the focus should always be on eliminating candidates that aren't. The best we can do in the field, when decisions to buy must be made almost instantaneously, is to start with a big pile of books, most of which have little or no value, and end up with a small pile of books, 50% or 75% of which will ultimately prove to be first editions. Then, if the price is right and condition is good, we can buy them and take them home for further investigation.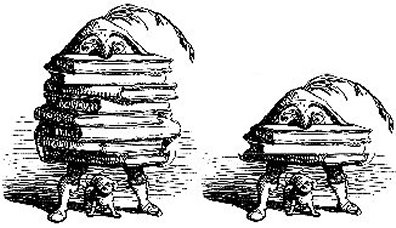 The most productive first step you can take in this process is to eliminate book club editions. Why? Because they far outnumber trade editions. Concentrate only on the most obvious designations. A blind stamp or printed mark on the lower right-hand corner of the back cover is an automatic toss, keeping in mind that publisher logos and ISBN numbers appearing in this same location do not indicate BCE status. The words "Book Club Edition" or similar ones appearing anywhere on the dust jacket or inside the book - another toss. The absence of a price on the dust jacket? Toss. The words "Literary Guild" on the dust jacket, spine or title page - toss. A "W" on the copyright page - toss. A five-digit code in a small box on the back of the dust jacket, a missing number string above the far right bar-code grouping on the back of the dust jacket, or any intuitive evidence (e.g., a laid-in book club slip or brochure) that indicates BCE status - toss.
Another productive step is to look for edition status on the copyright and/or title pages. Number strings that start with '2' or greater numbers (recall, of course, the Random House exception), letter strings that start with 'B' or later letters, the word 'reprint,' words that imply a previous publication by a different publisher (e.g., permission to publish granted by so-and-so, first published by so-and-so), the presence of more than one copyright date (exception - a collection of stories, poems, essays, etc., reprinted from periodicals will often list multiple dates but may still be a first edition), dates on the title page and copyright page that don't match, and again, any obvious intuitive indications (e.g., the words "second edition" or "second printing") - all tosses.
A third step is to eliminate reprint publishers. The following article gets into more detail on this, but for the time being, if you simply memorize the following six publisher's names, you'll be three-fourths of the way home: A.L. Burt, Collier, Dial, Grosset & Dunlap, Tower and Triangle.
Finally, consider tossing books that are in poor condition or, especially if publication dates postdate the 1930's, lack a dust jacket.
That's it. Memorize this information and you'll graduate from a clueless buyer of fiction into a reasonably accomplished one overnight.

<! col. two ends> <! space>
<! col. three begins>


<! button for rotating ads starts here>

<! col. three ends>