<!spacer>
<!spacer>

by Craig Stark

22 December 2008

<!spacer>
The Art of Terry Redlin
Master of Memories
Question: For eight consecutive years, 1991 through 1998, the same artist was named America's Most Popular Artist in annual gallery surveys conducted by U.S. Art magazine. Who was it? If you guessed Thomas Kinkade, "Painter of Light" - who, by the way, is presently America's most collected artist - you'd be wrong.
But you wouldn't be far off. Terry Redlin is also a master of painting light, usually twilight, and, like Kinkade, his topics often include outdoor themes as well. One might be temped to categorize him as a (nostalgic) realist, but so pronounced is his emphasis on the quality of light that much of his work has an almost surrealistic aura: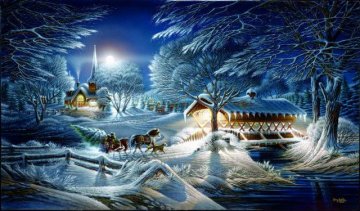 Though Redlin doesn't have quite the following Kinkade does today, there are nevertheless numerous collectors, certainly enough to make this a hot niche - and many who purchase books featuring his work. This is where we come in. The familiar bookselling principle applies: Identify a hot artist, and bookselling profit almost always follows.
To date there are only several Redlin books in print, but they're exceptionally common and sell quickly at agreeable prices - bread-and-butter bookselling at its best. The Art of Terry Redlin: Master of Memories is the most common title out there.
You'll see 100 profit-producing books like this every 3 months in BookThink's Quarterly Market Report of Common, Profitable Books, each one presented in a clear format with bibliographic essentials and links to photos. Here is the actual entry for The Art of Terry Redlin: Master of Memories, #58 in QMR, issue #6 (soon to be published):
TITLE: THE ART OF TERRY REDLIN: MASTER OF MEMORIES
AUTHOR: Keith G. Olson, Terry Redlin
ILLUSTRATOR: n/a
EDITOR: n/a
PLACE: Bloomington, MN
COPYRIGHT DATE: 1997
IMPRINT: Hadley House Publications
ISBN or LCCN: 0961897848
ISBN-13: 978-0961897840
BINDING: Hardcover
LINK:


Purchase QMR issues here.



<! col. two ends> <! space>