<!spacer>

Your New Scouting Book
The Amazon Kindle

by Craig Stark

#129, 3 November 2008
Technological developments in recent years have changed the dynamics of bookselling in ways few of us could have anticipated. Thanks to developers like ScoutPal's Dave Anderson, for example, many of us have radically altered our scouting tactics from relying exclusively on instinct and accumulated knowledge to, in effect, carrying "computers" into the field to research books on the spot and dramatically improve buying decisions.
Most of us have heard, read and likely participated in endless discussions about whether this technology has advanced our cause or dumbed it down - or even inalterably damaged the profession. Ultimately, like any other tool, the effectiveness of field lookup devices depends hugely on whose hands they're in. The more accomplished a bookseller is, the more effective tools like this are - period. At BookThink, therefore, we've made a point of promoting these tools only in the context of simultaneously promoting the ongoing acquisition of relevant book knowledge.
In the past year or so, I've been quietly keeping my eye on a more recently developed "gadget" as a potential scouting aid - Amazon's Kindle. Sales have been steady since its release in late 2007 and now number well into the hundreds of thousands; not yet an iPod-like phenomenon, but watch out. Christmas is looming, and guess who has proclaimed this "absolutely my new favorite thing in the world," something that has changed her life? None other than Dame Oprah. With this endorsement, Amazon scored the holy grail of coups and will likely realize a massive spike in sales. Also, rumors are floating out there as we speak of an imminent release of a considerably less expensive, sleeker version 2.0.
My intention here isn't to review the Kindle - to repeat what's already been tackled countless times - but to suggest uses that might assist booksellers. In essence, the Kindle is a device for storing and reading e-publications, audio books, etc., but it's so format-friendly and feature-rich that I believe it shows considerable potential as a field scouting book. Here are some reasons:
If there's one thing that's broadly revolutionary about the Kindle, it's the capability of downloading books, newspapers and other e-content within seconds - from virtually anywhere. But what I'm most interested in is what makes this possible - a 24/7 connectivity to the web itself via the Whispernet network. It enables me, for example, to type in a book's title, ISBN or any other associated data and retrieve Google results in mere moments. Specific results on various venues can then be clicked into for deep research purposes.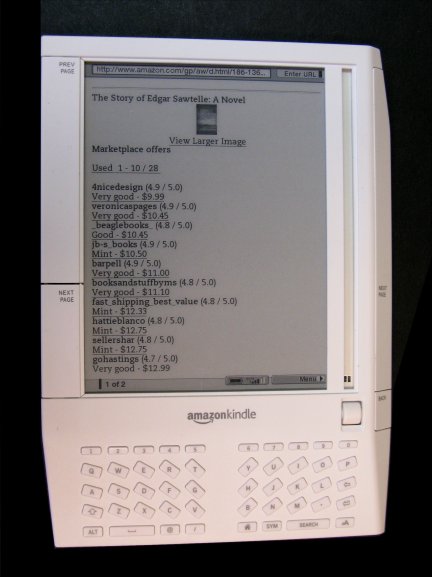 (Readability is superb, by the way. Kindle's display measures 3 ½" x 4 ¾", over four times as large as my pocket PC's screen, and the high-resolution, electronic "paper" format is significantly easier to read.) And what's often overlooked here is that this connectivity is free for life, and does this ever take the sting out of its present $359 price tag. No more monthly web access cell phone or scouting service fees to pay. True enough, a scanner will enable you to move through bar-coded products more quickly in the field, but the Kindle competes favorably with simple cell phone lookups - and in fact delivers far richer information.
But what about the information you've been diligently assembling in your scouting books all these years - the stuff that no search will uncover? This deep knowledge can be added to the Kindle as well and retrieved near instantly. (For more information on starting and maintaining a scouting book, see issue #25 of BookThink's Gold Edition, part of the How to Become a Full-Time Bookseller series.) Text files, MS Word, HTML, image files, etc. - all can be emailed as attachments to your Kindle e-mail address and Amazon will convert the files, if necessary, and return them to your computer at no charge or wirelessly to your Kindle for a nominal fee.
Speaking of scouting book material, BookThink has recently launched a project to offer all issues of the Gold Edition, QMR and 50/50 as Kindle e-books on Amazon. Two issues are already in place:
How to Identify Niche Markets in Books: The Holy Grail of Bookselling
So - if you find a Kindle under your Christmas tree this year, consider making it work hard for you on your scouting trips.
Want to read more articles by
BookThink's Editor in Chief Craig Stark?
Click here.

If you liked this article, Digg it!

<! col. two ends> <! space>