<! col one starts>
<! col one ends> <!space>
<! col two starts>



<<< Continued from previous page
Always the adventurer, she was arrested and thrown into a military prison by the French for entering the forbidden territory of the Syrian Druze (then under French control). Her first book, The Valleys of the Assassins, was the culmination of her audacious trek across an area of Iran dominated by a murderous and heretical sect of Muslims, where no other travelers dared set foot. She also smuggled herself into the Shi'a mosque at Al Kazimiyah, after covering herself from head to foot in black veils, and took part in Shi'a Muslim religious ritual in Teheran, the Muharram, in disguise.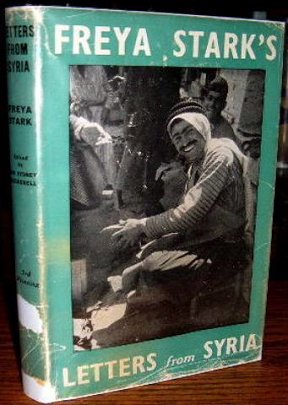 "There is a certain madness comes over one at the mere sight of a good map." Freya Stark, Letters from Syria.
Freya's parents had been travelers themselves, moving around Europe like restless nomads. Freya was born in Paris, educated in London, and spent much of her early life in Italy, where her mother went into partnership with an Italian man, Count Mario di Roascio. Her parents eventually split up, and her father moved to a log cabin in Creston, British Columbia, Canada where he spent the rest of his life.
Throughout her early years she was dirt poor and had to be very careful about money. Later in life she inherited a house in Asolo, Italy from her Godfather Herbert Young, a long time family friend and neighbor. This home, which she loved and returned to between her travels, enabled her to have some sense of roots among her family and friends.
She discovered the hidden routes of the great incense trade and cities that are just now being excavated - exactly where she said they would be found. In her 60s, she followed in the footsteps of Alexander the Great's journeys into Asia. Two books resulted - The Lycian Shore, Ionia: A Quest, and Alexander's Path, which document Greek civilization's impact on the Middle East.
Her books are timeless, and they are of particular interest now with so much turmoil and misunderstanding in the Middle East. Freya Stark developed a deep understanding of the culture and divisions among the people of that region, which makes her perspective enlightening today.
Although often compared to British writer and explorer Gertrude Bell, Freya differed from her in many ways. She was a much freer spirit, traveling with simple native guides and without the benefits of rank, money or an Oxford education. She roamed much further than Bell and with far fewer resources.
During WWII she served Great Britain in the Middle East both as a translator and an emissary spreading the ideals of democracy in the Western World to encourage the native people to take the side of the allies - or at least remain neutral in that conflict. Trusted and admired by most of the population, she was quite successful at this. Her work toward this cause was considered to be crucial and effective in helping turn the tide in the region. She was knighted at age 82.
Her curiosity, determination and sense of adventure set her apart as an extraordinary woman of her times. While other women fussed in their drawing rooms about equal rights, Freya was embarking on ocean and desert crossings and living a life most men wouldn't dare pursue.
There have been two recent biographies written about Freya Stark: Freya Stark: A Biography by Molly Izzard (Hodder & Stoughton, London, 1993); and the more recent Freya Stark: Passionate Nomad by Jane Fletcher Geniesse.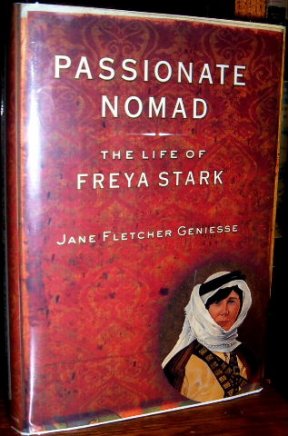 These books are well-written, enlightening, and a great deal of work and research has obviously gone into them. However, like most biographies written after the subject's death, they contain some speculation over the person's inner thoughts and motivations. For this reason I prefer to read Freya's own work, which is so beautifully written, and draw my own conclusions.
While reading her books, one can't help thinking how fortunate we are that she recorded so much of her grand adventure on paper for all of us to share.
Freya Stark's books are very collectible, and, because they are usually read, sometimes more than once, they can be difficult to find in fine condition.
Bibliography
The Valley of the Assassins, John Murray, London, 1934.
The Southern Gates of Arabia, John Murray, London, 1936.
Baghdad Sketches, John Murray, London, 1937.
Seen in the Hadhramaut, John Murray, London, 1938.
A Winter in Arabia, John Murray, London, 1940.
Letters from Syria, John Murray, London, 1942.
East is West, John Murray, London, 1945.
Perseus in the Wind, John Murray, London; 1948; reprint, Century, London, 1984.
Traveller's Prelude, John Murray, London, 1950.
Beyond Euphrates, John Murray, London, 1951.
The Coast of Incense, John Murray, 1953.
Ionia: A Quest, John Murray, London, 1954.
The Lycian Shore, John Murray, London, 1956.
Alexander's Path, John Murray, London, 1958.
Riding to the Tigris, John Murray, London, 1959.
Dust in the Lion's Paw, John Murray, London, 1961.
The Journey's Echo, John Murray, London, 1963.
Rome on the Euphrates, John Murray, London, 1966.
The Zodiac Arch, John Murray, London, 1968.
The Minaret of Djam, John Murray, London, 1970.
A Peak in Darien, John Murray, London, 1976.
Rivers of Time, (with Alexander Maitland) William Blackwood, Edinburgh, 1982.

Freya Stark Letters were privately printed in eight volumes between 1974 and 1982. Another collection, Over the Rim of the World: Selected Letters, edited by Caroline Moorehead, was privately printed in 1988.
Also worth mentioning, as this was my introduction to Freya Stark, and the reading of it set me on a quest of all her books in their original form is The Freya Stark Story (a condensation in one volume of Traveller's Prelude, Beyond Euphrates, and The Coast of Incense), Coward-McCann, New York, 1953. If you can find it, it is a wonderful introduction to her work.

If you liked this article, Digg it!

<! col. two ends> <!spacer>
<! col. three begins>







<! col. three ends> <!spacer>
<! col. four begins>











<! col. four ends>