<<< Continued from previous page
Authentication may be more difficult if a signed book is acquired while scouting. This happens with such frequency that it still surprises me. If you are very lucky, you might be able to establish a connection between the author and the book's previous owner. This could occur either through internal clues ("To Joe Shmoe, my old Army buddy - Big Name Author"), or through external clues (book was purchased at the estate sale of a family with known connections to the author). This is a perfect example of why the flatsigned crowd is so wrong. If I find a signed book with no supporting provenance, additional writing in the author's hand can only increase the chances of establishing its authenticity.
Often, the process of authenticating a signature simply comes down to comparing it with others that are known to be authentic. And this is the rationale behind the Collecting Science Fiction Signature Gallery. Every signature that you will see in this gallery will be guaranteed by me to be 100% authentic. Many are signatures that I have personally collected, and many include inscriptions - that is, you will see a juxtaposition of the author's signature to his or her regular handwriting. I will also include author signatures obtained from signed, limited editions put out by publishers like Easton Press or Phantasia Press. Finally, I will include facsimile signatures that are found in an author's book.
For BookThink articles on obtaining and authenticating author signatures, go to the BookThink Book Topic "All In A Name."
Kim Stanley Robinson - obtained in person at a book signing at Borders of Baileys Crossroads, 6/15/2004: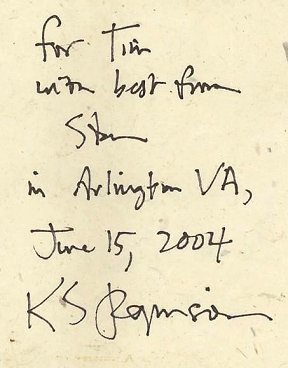 Lois McMaster Bujold - obtained in person at the National Book Festival in Washington, DC, 10/9/2004: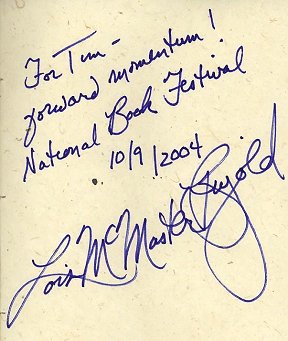 Frederick Pohl - obtained in person at the National Book Festival in Washington, DC, 10/9/2004: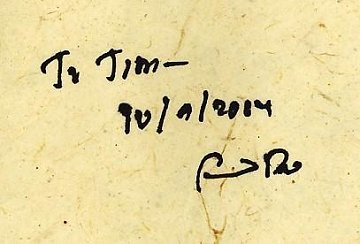 Vernor Vinge - A laid in limitation sheet from the Mysterious Galaxy bookstore. A Deepness in the Sky (New York: Tor Books, 1999) ISBN 0312856830: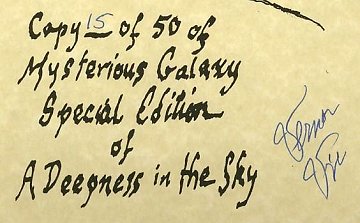 Contributions to the author signature gallery are most welcome. If you have any SF, Fantasy or Horror books originally published with the author's signature and would like to contribute images for the gallery, email me at [INSERT my email here baysidebooksmd@hotmail.com, with the label "Collecting SF"]. Send me a list (no images yet) and include the following details: title, publisher, author(s), signature(s), and year published. Of course, many signed editions are released with multiple signatures - that is, in addition to the author, often the illustrator and even the author of the introduction will also sign. Please include any and all signers in the detail.

<! col. two ends> <! space>